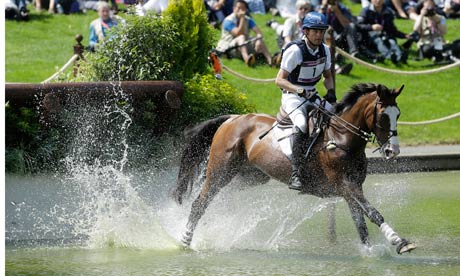 The Guardian's Marina Hyde, in her daily Olympic dispatch on the Greenwich scene yesterday for the London 2012 equestrian events:
At Greenwich, despite the sunny skies, there were innumerable pairs of Hunter wellies, for the simple reason that you never know how it's going to turn out. Empty seats scandal in the morning, shepherd's warning.

Even more clearly in evidence were the hundreds wearing riding boots – a bit like those spectators who wear golf shoes to championships, giving them the air of people who imagine they might be called on to the greens at any time and asked to replace Tiger Woods if he goes to pieces.
I will say that the Open Championship crowds featured a surprising number of metal spike sounds, something you almost never hear anymore.