AP's Nancy Armour on Rory McIlroy's epic late arrival to Sunday's singles matches.
"I've never been so worried driving to the golf course before," McIlroy said. "Luckily there was a state trooper who gave me the escort to here. If it wasn't for him, I wouldn't have got here in time."

McIlroy was reading the Ryder Cup tee times on his phone and saw that he and Bradley were teeing off at 12:25 p.m.

One problem: That was Eastern time. Medinah Country Club, outside Chicago, is in the Central time zone.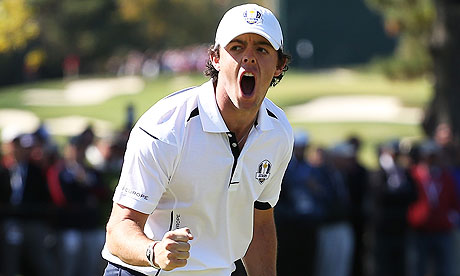 Brian Keogh with a thorough Guardian account of the affair and this on the police escort:
"At least I wasn't in the back! We got here as fast as we could."
He eventually screeched into Medinah at 11.14am, only 11 minutes before his tee time and ran to the locker room to put on his golf shoes. The veteran US golf writer Dan Jenkins was quick off the mark on Twitter: "The only thing that would have made Rory's late entrance better: if his cop-car escort had been driven by Jake and Elwood Blues."

McIlroy wasn't quite on a mission from God, as the Blues Brothers liked to say, and if he was under pressure he didn't show it.
John Strege's GolfDigest.com media column documents the less-than-kind reactiong from Monty.
"That's absolutely ridiculous on this level," Montgomerie said during his stint in the NBC booth. "Quite unbelievable...the world number one golfer. How this happened I do not know.

"Where's the captain? Where are the vice captains? Where's his caddie? We were fortunate that he's the one guy, the most natural player on our team, that didn't need to practice. If we had a Faldo or Langer we'd be in trouble."
The leaked footage of Rory's drive to Medinah:
The NBC/Golf Channel arrival footage:
Rory talking to Golf Channel after the round about it:
**Kevin Garside paints this picture of the scene:
While Bradley was sprinting around the tee box, working the crowd with his Arnold Schwartzenegger impressions, his opponent was speeding to Medinah via police escort. With less than 10 minutes to his tee time, McIlroy bolted from the front passenger seat to the putting green. No time to loosen up on the range. A quick swig from a water bottle and a munch on an energy bar and McIlroy was on the gantry making his way from the putting green to the tee.

This insane development with Europe in the midden bettered any of the cock-ups fashioned by Sir Nick Faldo at Valhalla four years ago.