Jason Sobel says Twitter and specifically, player tweets, led to Paul McGinley's appointment as 2014 European Ryder Cup Captain.
In the 48 hours prior to the announcement, three members of Europe's team – the three most vital members of the team, it could be argued – publicly voiced their support for McGinley through social media.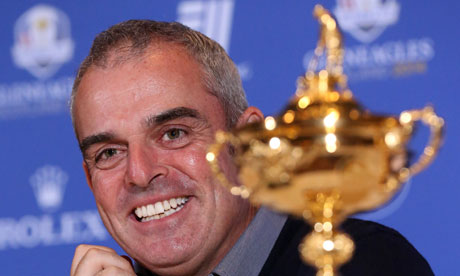 Will Gray compiles (overjoyed its not Monty) player Tweets in reaction to the announcement.
Ewan Murray says McGinley's quiet approach to the politicking got him the job.
"It is amazing how much you learn when you listen and don't talk," he said. "I knew I had the support of the players and I knew my hand was strong. I felt the more I said, my chances would lessen."
And John Huggan says that after all the campaigning the decision was reached pretty easily and quickly.
Five men were considered: Sandy Lyle, Colin Montgomerie, Miguel Angel Jimenez, Paul Lawrie and McGinley.

"But we are 100 percent behind this captain," said Thomas Bjorn, chairman of the 15-strong committee. "It was obvious very early that a consensus was forming. We had all listened to the players on tour and it was obvious who they wanted to represent them. In the end, it was a unanimous decision and we are all 100 percent behind him."