It's hard to believe, I know. Apathy surrounds the season opener at Kapalua. The biggest names stay home and the new oversaturation era begins with the PGA Tour's constant loop of action already seemingly exhausting. And it hasn't even started yet!
GolfChannel.com's Jason Sobel says the Hyundai Tournament of Some Champions has been overshadowed by the missing "Magnificent Seven," a "who's who list of special talents: Rory McIlroy; Luke Donald; Tiger Woods; Justin Rose; Sergio Garcia; Phil Mickelson; Ernie Els."

But just think, they didn't get to pre-tape NFL style introductions!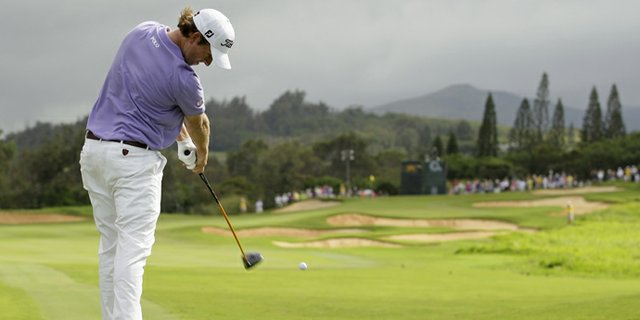 Meanwhile Ann Miller in the Honolulu Advertiser publishes several ominous quotes from Tim Finchem fishing buddy, Fred Funk favorite and all-things-Hawaii point man, Mark Rolfing. Since it's behind a paywall, SBD summarizes the key lines.
"I know the date is problematic. We've got guys skipping that never skipped before. ... The fact is, it should be one week later. Next year will be worse. New Year's Day is Wednesday of tournament week." Miller noted the PGA Tour Sony Open, the "first full-field event of the year, is next week at Waialae Country Club."
It's not great news for the Sony either.
Sony's commitment as title sponsor extends through '14, though Rolfing "worries weaker fields and the date's conflict with the International Consumer Electronics Show could mortally wound a tour stop that goes back nearly 50 years." Meanwhile, this is the final year of Hyundai's title sponsorship for the TOC, and the tournament's "holiday date and diluted fields make it tough on extension talks." Rolfing said, "I've talked to a whole lot of players, and I think one week would make a huge difference."
Fifty-shmifty. Sorry Mark, we've got WGC's and the all-important fall events taking priority! Oh and Asia too.
It's not all bad news, as Hyundai's front man sounds positive talking to Jim McCabe, even though they just can't quite seem to put ink to a new contract.
"We are very bullish," Shannon said. "We don't have anything to announce this week, particularly because we are so focused in executing another great event. But we've had discussions with the PGA Tour, but we just need to get this tournament behind us and then have some more discussions with them."
**At least they had Chamber of Commerce weather on opening day.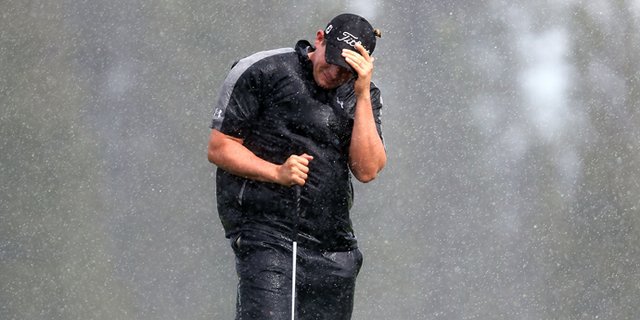 Well, maybe not, according to Jim McCabe on the first wipeout of a PGA Tour round since 2005 and means 36 holes Saturday.
It's the first time a round has been scrubbed since the Players Championship in 2005, when play was stopped after only 30 players began.

From the opening tee shot, it was a precarious endeavor. Matt Kuchar, in the second pairing, double-bogeyed the par-3 second when he landed beneath the lip of a bunker and couldn't get the ball out. It rolled back into one of his footprints, perhaps a 6-inch hole. By the time four or five groups had played the 368-yard, par-4 third, it was clear that this was a day unlike another that this tournament had ever seen.

How crazy was it? Well, chew on this, all you moaners and groaners who think the ball goes too far: The driving average for 16 players at the third was a robust 221 yards.

"I hit mine 215," Rickie Fowler said. "And I hit it good."