It's never fun to see a great golf town and even greater golf club like Muirfield Village suffer through a brutal four days of the Presidents Cup with rain, rain and more rain because (A) they want to showcase their course, and (B) the aftermath mess is so much worse than what everyone sees by Sunday.

And you can't fault anyone for this, except the very person responsible for all of the rain that forecasters say will leave town with the Cup: Barack Obama.

Oh I know, you're thinking Chief Leatherlips or the Moundbuilders had something to do with the neverending downpours at Muirfield Village in the face of 30% forecasts. But from the moment Jack Nicklaus started campaigning for Mitt Romney, it was apparently that the President of the United States and Honorary Presidents Cup Chairman would get his revenge by ordering the NSA to seed Dublin, Ohio's rain clouds with special downpour tablets.
Besides poor Muirfield Village, the other big loser in all this rain was NBC, or as it's known to most of you, Golf Channel on NBC. Tape delaying the final day by a few hours and talking about the match outcome being in doubt proved to be as much of a credibility booster as Karl Rove insisting that the presidential election couldn't be called. I'm not sure what the solution was with the contractually obligated Seve Trophy on Golf Channel, but after reading the Twittersphere and the SI Confidential back-and-forth over NBC's call, airing the Presidents Cup and deciding matches on tape delay proved to be a crediblity hit for both event and network.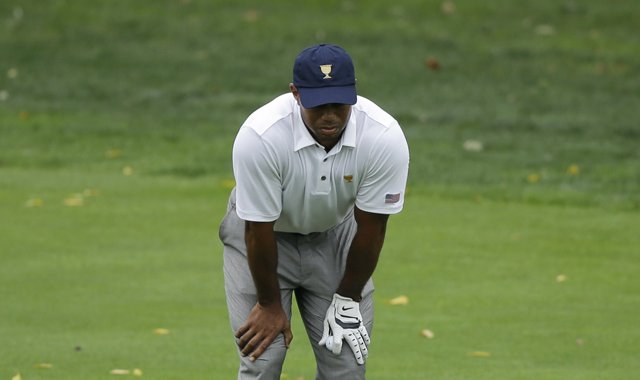 Speaking of injuries, Tiger threw out his back again and can't wait to not touch a club for a while (Bob Harig). He also called it a "long week."
"I think a few of us are a little bit dinged up and our physios did a hell of a job this week getting us out there and keeping us going.
Mercifully for his health and long term prospects, Tiger's fall schedule looks light for some time (Alex Miceli), with only a the Turkey race event, an exhibition with Rory in China and the World Challenge.
Woods' plans are limited the rest of the fall: Turkey for one of the Race to Dubai events, a one-day exhibition with Rory McIlroy in China and of course his tournament in California in December.

The question is will that much rest be enough to come back ready to go at Torrey Pines in late January?
And even better, Brandel Chamblee even complimented his swing on the Live From wrap:
"All week long, Tiger was swinging as well as I've seen him swing all year long."
Mark Lamport-Stokes says the Presidents Cup format-change groundswell, which is currently trying to dry out by hanging its socks on the Hyatt Place Dublin's towel rack, wants the format to change merely to keep the exhibition closer. Essentially, the format-changers want the same setup as the Ryder Cup, with four matches a session until the singles

On a lighter noted, Jordan Spieth hit himself in the head repeatedly with an iron shaft, so there was that appointment television moment. Luke Kerr-Dineen with the GIF.

The WAGs looked super and Tiger got a big kiss from Lindsey Vonn. More importantly, whoever was in charge of WAG uniforms had rain boots in the repertoire, as you'll see in this GolfDigest.com WAG slideshow.

Oh and from Golfweek's five things, it seems this is it for three-peater Captain Couples.

Your day four highlights: