Alex Miceli lays out the timing and various avenues of the appeal process for Vijay Singh after he admitted to a doping policy violation in a Sports Illustrated story.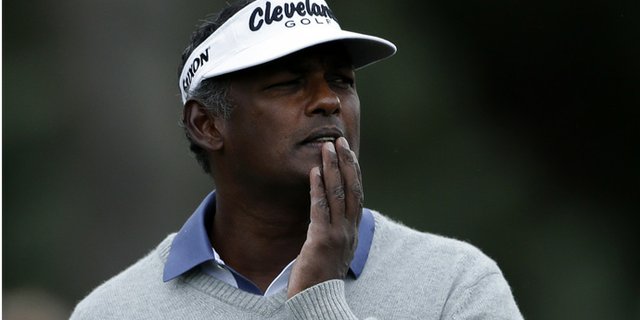 Shockingly, Singh has several ways out of this even though the ban on the substance in question was well publicized, regardless of whether it contains IGF-1 or not.
One of Singh's defenses might include an invocation of Commissioner Tim Finchem's words. I never quite imagined the Commish and his resistance to drug testing could be used against him this way...
5) Singh could use the commissioner's own words, that no drug benefits golfers. At a news conference on July 1, 2009, at the AT&T National, Finchem talked about potential drug use in golf.

"In some sports, cycling, clearly there are drugs that can help you win," Finchem said. "You can gain a real competitive advantage. I don't think that's true in golf, either, but it's not really relevant. What's relevant is, there's a rule, players play by the rules, they believe in that, and in a way it's helped us reaffirm that culture. So maybe that's good."
Perhaps this (and other statements like it by Finchem until Tiger announced his desire to see testing) explains the tour's seemingly slow and nurturing response to Vijay's situation, words that would never be used to describe the Doug Barron situation. In a wide-ranging column on the topic, John Huggan quotes a European Tour source suggesting doping policy abuse on the European Tour, but more importantly he lays out this picture of the PGA Tour's handing of the Barron and Singh situations.
Back in June 2008, wee Timmy could hardly wait to punish journeyman Doug Barron, who tested positive for beta-blockers at the Memphis Classic. What wasn't made clear at the time was that Barron had been prescribed said medication by his doctor as part of treatment for low testosterone and had duly informed the tour of that fact. Initially banned for a year, Barron was eventually cleared of wrongdoing, forcing the Tour into a humiliating climbdown.

Contrast that draconian and unfeeling attitude with the treatment of Singh. This past week the resident of Ponte Vedra Beach, Florida – also the home to the PGA Tour – competed in the AT&A Pro-am, only days after openly admitting his prolonged use of a banned substance, one not prescribed by his doctor as treatment for any medical condition. Clearly, in Finchem's world, there are rules for relative unknowns like Barron and rules for three-times major champions who are members of the World Golf Hall of Fame. At the very least, Singh should have taken a leave of absence from competitive golf until this matter was sorted out.