Not sure when Blaine Newnham's item appeared on Cybergolf, but he reports that conditions are improving at 2015 U.S. Open host Chambers Bay. The story also includes some fantastic site visit photos with architect Robert Trent Jones and the USGA's Mike Davis disagreeing talking shop.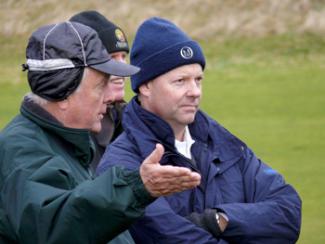 There won't be a clubhouse or the hole-by-hole people moving system that U.S. Amateur spectators recommended, nor does it sound like the option to arrive by water or rail will be in play as hoped. But there will be grass on the greens, that logo, an event in Tacoma in three years and some radical day-to-day setup touches that should be fun to watch.
"The reports I have on Chambers Bay are very, very positive," Davis said recently. "I'm excited."

Davis has always been a fan of Chambers Bay, seeing the potential for an Open in the refurbished sand pit alongside Puget Sound before most did; even before he became executive director of the USGA.

At the time the moss problem was finally attacked, the greens didn't survive the treatment very well. They just weren't very healthy. At that point Pierce County, which owns the course, and KemperSports, which manages it, made a decision to hire Eric Johnson as director of agronomy and promote Josh Lewis to superintendent. Before coming to Chambers Bay, both had experience growing and maintaining fescue at Bandon Dunes, about 400 miles to the south on Oregon's Pacific Coast.

For the first time, greens seem to be holding their own against winter and increased play by locals. Because the Open is held in June and not August as was the Amateur, the fairways and greens won't be butterscotch brown and hard as pavement, but they should be appropriately firm and at the same time free of native grasses.