Fuzzy, I have Sergio Garcia on line one, he wants to know what he's gotten himself into now.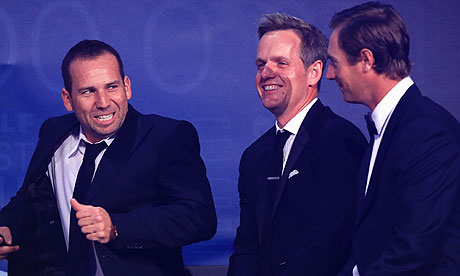 Ewan Murray with what figures to escalate the Sergio-Tiger spat into a full-fledged controversy and some rough times for Sergio if Fuzzy Zoeller's past use of a similar joke is any barometer.
The Spaniard was on stage at the European Tour's gala players' awards dinner, where he was questioned by the Golf Channel's Steve Sands. García, who has been embroiled in verbal battles with Woods since the Players Championship at Sawgrass this month, was asked in jest if he would have the American round for dinner one night during the upcoming US Open. "We will have him round every night," García said. "We will serve fried chicken."
**Sergio quickly issued a statement apologizing. From GolfChannel.com:
Garcia soon apologized for the off-color comment, saying in a statement: "I apologize for any offense that may have been caused by my comment on stage during the European Tour Players' Awards dinner. I answered a question that was clearly made towards me as a joke with a silly remark, but in no way was the comment meant in a racist manner."