Gene Wojciechowski took his life into his own hands and posed the above thought to Hogan fan supreme Dan Jenkins over Carshon's Deli chocolate pie.
Jenkins' eyes narrowed and for a moment I thought he was going to stab me with my car sun visor. Remember, this week's U.S. Open is the 60th of Jenkins' brilliant sportswriting career and his 218th major. And it is being played on sacred ground: Merion Golf Club, where Hogan won the 1950 U.S. Open, just 16 months after nearly losing his life in a car crash.

There was a painful pause, nearly as long as it takes Kevin Na to line up a putt, before Jenkins finally said, "How so?"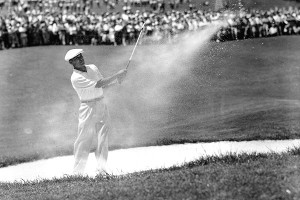 Wojciechowski's comparison is pretty good, even Dan might...might have to admit.
They each completely retooled their golf swings and then totally committed themselves to those changes.

They understood that the secret, as Hogan once said, "was in the dirt." Translation: Practice until your callouses had callouses.

They had little or no respect for players who didn't work hard.

They were aware of their critics, detractors and doubters, remembered every word, and used the criticism as motivation.

They were essentially loners: loyal to a select few; careful, guarded to most everyone else.
Tiger sat down with Wojciechowski for ESPN's Sunday Night Conversation: