Doug Ferguson's game story on Jason Dufner's workmanlike 2013 PGA Championship win at Oak Hill.
Dufner can't think of any other athlete who plays with so little emotion.

"But those sports are a little more exciting - big plays in basketball, home runs in baseball, big plays in football. That will get you pumped up," he said. "For me, golf is a little bit more boring. I hit it in the fairway or I didn't. Usually I'm struggling with the putter, so there's not too much to get excited about with that."

His name on the Wanamaker Trophy?

That was worth a smile.

"Nobody can take that away from me," Dufner said after he closed with a 2-under 68 for a two-shot win over Furyk. "It's a great accomplishment for me, and I'm really excited about it."
Fun stuff from golf.com's Cameron Morfit on Dufner:
Among Dufner's most prized possessions is a signed, framed photograph of Hogan that his wife gave him for a wedding present. Dufner has been fascinated by excellence ever since he was a teenager following Vijay Singh around the course as a standard-bearer at the Honda Classic. Who succeeds? Who doesn't? And why? For Dufner, the difference has been not just working with instructor Chuck Cook but also using visualization techniques he found in a small book about Russian weightlifters.
This is pretty classy all the way around.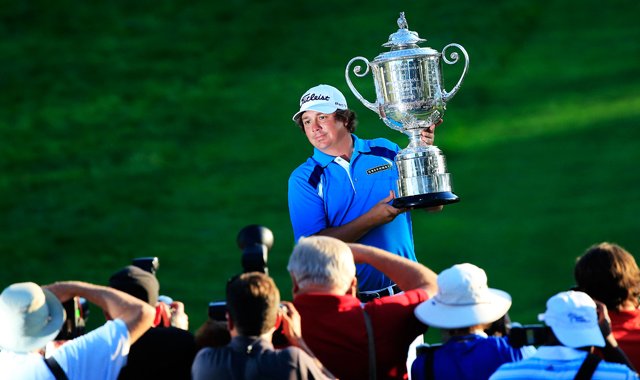 From David Dusek's Golfweek.com wrap on the win that's also accompanied by a swell Getty Image:
He and his wife, Amanda, recently purchased 50 acres of land and are in the process of building a home. They were given an oak tree sapling by the general manager of Oak Hill Country Club and plan to plant it, along with several acorns they've collected this week, on their property.

"It will be a neat experience, the first major championship at Oak Hill and hopefully having some of their oak trees out there on the property," Dufner said.
GolfChannel.com with a nice roundup of the Twittersphere reaction.

What's in Dufner's bag, courtesy of PGATour.com.

The official highlights.



Dufner's post-round interview: