Golfweek Staff reports that the PGA and State of New York are putting the finishing touches on a package delivering the 2019 PGA to Bethpage and the 2024 Ryder Cup to the Black Course. Golfweek Staff says the announcement is set for August 13th, but my sources say the negotiations are not complete and an announcement is a ways off.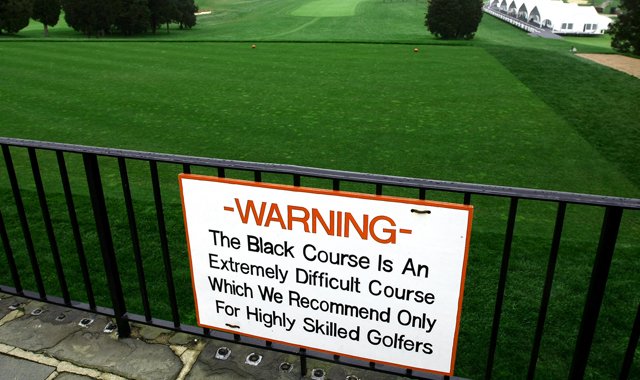 As reported by Sam Weinman two years ago, this process started under PGA CEO Joe Steranka and has been finalized by new CEO Pete Bevacqua, who worked at the USGA during the 2009 U.S. Open there. A native New Yorker, Bevacqua negotiated with then Attorney General Andrew Cuomo on an amicable settlement for U.S. Open ticket refunds after rain inundated the event.
Last week, Bevacqua praised the now-Governor for his help with the PGA at Oak Hill.
Just to echo Ted's thoughts, Rochester is such a golf savvy town and we have received such unbelievable support, it's really been incredible to see these first three days. Also, I think it's absolutely worth noting that the reception we've had from the State of New York and Governor Cuomo's office, almost unprecedented support. I think bringing a major championship into any part of the country is a big endeavor and it's big business for this region, and I want to thank the governor's office in the State of New York.
This does not get a future PGA out to the west coast, something Bevacqua stated last week was a top priority. However, because you all watched the Grey Goose 19th Hole last week where John Feinstein, David Fay and myself discussed this news, the Ryder Cup at The Black will be most electric venue the event has ever seen. And the awkward routing of the Black actually works beautifully in a Ryder Cup format.

I have just two requests for the PGA of America: integrate the event more closely with New York City any way you can. And please, please use the 18th hole on the Red Course for the finishing hole. Please!
**Our Bethpage discussion from the Grey Goose 19th Hole last week: