A fascinating debate is in the offing over the coming months if Tiger Woods continues to chunk (and now blade) wedge shots as he did again Friday in the Hero World Challenge.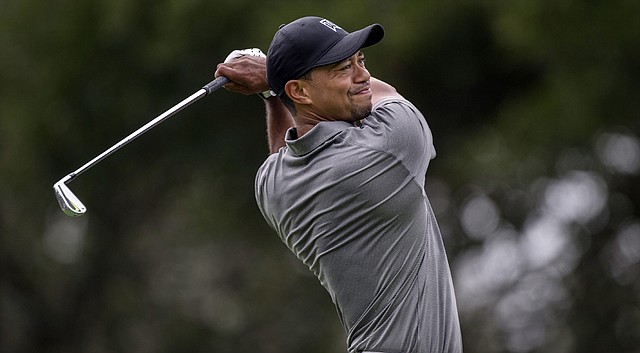 From Bob Harig's ESPN.com story on Tiger's 2-under-par 70 in the company of Patrick Reed, who posted 63.
The work in progress remains his short game, a good example occurring at the par-4 eighth hole Friday. It was his only bogey on the front side, but it was an ugly one, with a wedge-shot approach to the green coming up several yards short, followed by a bladed chip shot that went 40 feet past the pin. A day earlier, Woods chunked chip shots four times, so a natural compensation might be what occurred on the eighth hole.
Tiger later presented the 18th green surrounds with a huge divot similar to those of Thursday's round and again, on a shot where there was plenty of green to work with and no real fine line situation that might explain the kind of heavy shot he's hitting.

Woods said after the round that the long swing changes he's making are tied to the short game struggles. Will Gray reporting for GolfChannel.com:
"A chip shot is a smaller version (of the swing)," he said. "So this is a different path than I have been using, and it's showing up. It's not quite ready yet. Just going to take more time, more practice."
Adam Schupak explored the topic of Tiger's swing changes, with complimentary remarks from Hank Haney on Twitter ("Clearly better, back on track. He wasted five years.") and David Leadbetter, who is not seeing the direct correlation Woods and others see between swing mechanics and short game mechanics.
"Sure there is some correlation between the long game and the short game but basically it's a pretty different approach," Leadbetter said. "As good as a short game as he's had during his career, why would he ever want to change that? I think he made a big mistake."
Woods critic Brandel Chamblee on Golf Central has actually been endorsing the idea of a direct tie between Woods' swing and the embarrassing shots around the greens, saying a combination of the dip in Woods' swing, the changed release point and the setup/takeaway changes are all impacting Tiger's wedge shots around the green.
Maybe I haven't been paying enough attention to instruction over the last ten years, because I'm totally flummoxed by this notion. Though perhaps this explains why a shocking number of modern professionals are so mediocre around the greens compared to previous generations due to employing swing fundamentals for what are largely short feel shots around greens?
Here is Chamblee talking about these really difficult shots around Isleworth's greens where he says there is "nothing harder than chipping off of a tight light into the grain."