The terribly sad passing of Ian MacGregor Sunday during the Madeira Islands Open prompted many kind words said about the 52-year-old caddie for Alistair Forsyth.
'Myself and playing partners Adam (Gee) and Tano (Goya) met tournament officials and spoke to (European Tour chief executive) George O'Grady on the phone before taking the decision to play on, because we felt that was what Mac would have wanted.

There was also extensive social media outrage at the European Tour for not calling the round, though Forsyth is defending the decision, writes Phil Casey.
Former Open Champion Peter Lawrie withdrew immediately upon hearing the news, explains Brian Keogh. And Golf Central Daily says the outrage is growing.
Seeing some of the photos with this Daily Mail piece, in particular the one of poor MacGregor having succumbed on a wide open links course, will probably help many understand why players and caddies were so immediately affected.
Tony Johnstone has penned a lovely remembrance of MacGregor at Golf Central Daily.
Mac was known for being utterly fearless of everyone and everything, and would pursue his love of the bush by disappearing into big-game territory for a week on his own (unarmed!). He had a passion for fishing and wildlife and was never happier than when in the wilds of Africa. A true bushman.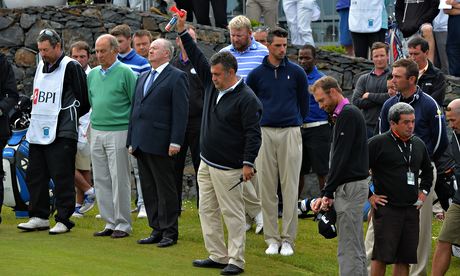 **Ewan Murray of The Guardian takes the European Tour to task.
It was a horrendously crass and insensitive move, no matter how the tour attempts to justify it. It shamed this sport. The subliminal message was clear: just get the tournament finished and move on. After a minute's silence by the clubhouse, that is.
Euan McLean in the Daily Record defends Forsyth and his playing partners for endorsing that the tournament go on.
Let's be clear. Alastair and his playing partners Tano Goya and Adam Gee should never have been put in the impossible position of being asked whether they felt the tournament should continue.
It was grossly unfair on three guys undoubtedly still in shock at seeing a friend collapse and die in front of them.
Frankly, I think they were used by the Tour in a cynical attempt to justify a decision they knew would spark outrage among those who considered the popular Zimbabwean a friend.