Rick Reilly visits Phil Mickelson in Rancho Santa Fe and while the attention will go to Phil's predictions of U.S. Open wins and the next five years ("The next five years are going to be the best of my career"), Reilly totally buries the lede: Amy just hit the five year mark of living cancer free.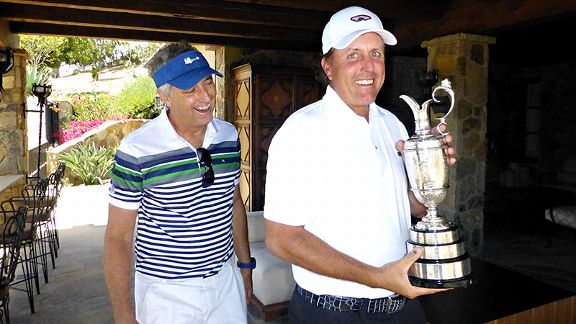 But here's the quote that will get some attention considering he's been battling a back issue this year:
"My body isn't beat up like a lot of guys. My swing isn't like Tiger's, or Jason Day's, Dustin Johnson's, even Hunter Mahan's. I don't have a really fast golf swing that has a lot of viciousness, a lot of fierceness, where the torque and power that's released is hard on the knees, the back. My swing is big and long and has a wide, wide arc. That doesn't put any pressure on my body ... I'm like a kicker in the NFL. I'm not beat up. I can keep playing at a high level for a long time."
There are other nuggets too about his golf cart (satellite dish) and practice area (room to hit 450 yard drives, four chipping greens). No mention of moving.