The 11-year-old Drive, Chip and Putt champ from Northern California helped the assembled U.S. Women's Open media from remembering they have more nights ahead at the Best Western and Microtel by writers by wowing them during a news conference Tuesday at Pinehurst.
Steve DiMeglio writes:
With three pigtails sprouting from her tiny head, the 5-foot-1 Li was the biggest attraction Tuesday during practice rounds for the U.S. Women's Open. The sixth grader with a mouthful of braces, who is too young to play in an American Junior Golf Association tournament where you must be 12, even had as much fun during a 20-minute session in the interview room as she did playing the back nine of the course in a practice round with three-time LPGA tour winner Beatriz Recari.
Randall Mell's excellent write-up on Li:
With 15 TV cameras pointed at her, with more than 50 media eagerly waiting to ask her questions, Li didn't look the least bit overwhelmed.

"I just want to go out there and have fun and play the best I can, and I really don't care about the outcome," Li said. "It's just, I want to have fun and learn. I want to learn a lot from these great players."

Li punctuated her answers with delightful school-girl giggles, an endearing practice that also proved disarming.

What does she like to do when she isn't golfing?

"I love doing a lot of things, but reading is my favorite," she said.

She likes Rick Riordan's stories, the tales of Percy Jackson and his adventures upon discovering he's actually the modern-day son of an ancient Greek God. She also likes Sherlock Holmes.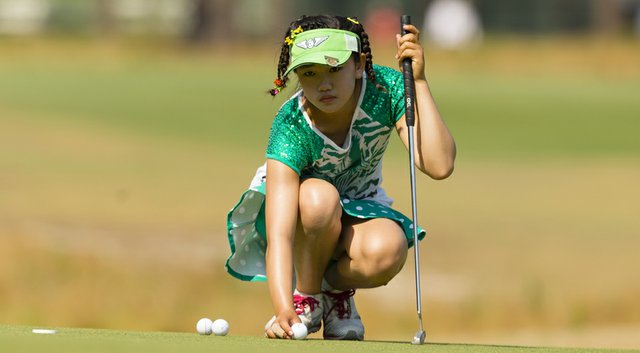 Adam Schupak followed her around Pinehurst Tuesday and noted this among other insights:
When Li joined TGA Golf Club of Northern California in 2011, her handicap was 8.0. She's currently a +1.5, and takes lessons from Jim McLean at his academy at Trump Doral Resort in Miami. Can Li's father beat her, she was asked? Li's head snapped back as she broke into laughter.

"No," she said, giggling some more, and a roomful of reporters laughed with her.
Karen Crouse focused on the impressions of two former child prodigies now at the top of the LPGA Tour.
The weird and wonderful part of getting a glimpse of the possible future of women's golf is how it transports people back in time. Michelle Wie, who made the cut in her first United States Women's Open in 2003, at age 13, said she met Li on Sunday and was struck by her off-the-charts cute quotient.

"The first thought that came into my mind was, 'Oh, I wish I looked that cute when I was 11,' " Wie said, adding, "It's definitely a walk back to memory lane."

It is also a stroll back in time for Thompson, who was 12 in 2007 when she became the youngest to qualify for the tournament. She carded an 82 in the second round at Pine Needles, a few miles down the road from Pinehurst No. 2, and missed the cut.

"My experience at age 12 helped me so much," Thompson said, adding, "If this is what she wants to do for her life, she will learn off the other players and see what she needs to improve on."
The full press conference video. She's adorable!