As of almost midnight, the full results page still is missing some stories from the writers dispatched by the USGA to the 2014 U.S. Open Sectional Qualifying, but as Garry Smits noted in his roundup of the greater Jacksonville golfers, all of the Sectionals finished on Monday even with a delay in the crowded Columbus qualifier. We'll take it and so will the volunteers who put in a long day and do not need a return visit Tuesday morning for a playoff.

In no particular order, the stories I did find are linked below.
Actually, leading off is perhaps the best story of the day, reported on by Rob Oller from Springfield, Ohio where 17-year-old Will Grimmer, who shot 59 last year at the North & South Amateur at Pinehurst, makes it through qualifying for another crack at the course.

Rex Hoggard said the huge Columbus qualifier fittingly produced democratic results, with a nice mix of qualifiers including Erik Compton.

Jeff Rude reports from Columbus where Danny Lee did not qualify and yet was the story in a sense.

Will Gray has the one real downer of the day, 22-year-old Landon Michelson thinking he'd made it for 15 minutes or so only to learn his playing partner had written down an incorrect score and Michelson signed for it.

Adam Schupak was at the Cordova, Tennessee site where Hudson Swafford dominated, JB Holmes finished second and a playoff produced Pinehurst qualifiers Brady Watt and Joe Ogilvie, among others.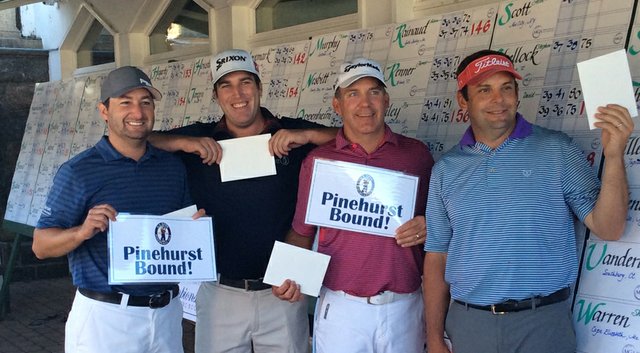 David Dusek on the Purchase, NY sectional where Rob Oppenheim, Jim Renner, Fran Quinn and Matthew Dobyns move on to Pinehurst.

Nick Masuda from Quail Valley in Vero Beach.

Stuart Hall reports from Woodmont Country Club in Rockville, Maryland where Billy Hurley, Nicholas Mason, David Constable and Chad Collins made it through.

Benjamin Larsen of AmateurGolf.com focused on the amateurs who made it or almost made the US Open.
And Stan Awtrey on the Ansley qualifier where Henrik Norlander and amateur Smylie---yes, Smylie--Kaufman made it. Reader Rob Matre reports that Smylie's caddie is named Luckie. And that, in a nutshell, is U.S. Open Sectional day!
**More good stuff:

James Raia with a diverse group making it through at Lake Merced, from 18-year-old Maverick McNealy to 42-year-old Alex Cejka.

Dave Shedloski from Columbus covers some other players not noted in the above items on Columbus, including Ken Duke just rolling along with another major berth.


Stephanie Wei was there and filed some nice photos, playoff video and lots of quotes from Erik Compton. It was getting dark during the playoff!

David Shefter from Houston where Walker Cupper Cory Whitsett medaled and Bobby Gates was right there with him. The story ends with notes on the day as well.

James Dent from the Memphis qualifier where David Gossett got back into the U.S. Open. He also notes that Brady Watt waited two hours before the playoff that he ultimately prevailed in.

Beau Eastes from Creswell, Oregon where BYU's Zac Blair made it through with fiancé Alicia Watkins on the bag. Clayton Rask, of Otsego, Minn., was the other qualifier playing the course for the first time and after a seven-hour drive the previous night to get there.