As expected, attendance at Hoylake was down, but "the R&A said a heatwave could have contributed to the low attendance, although ticket prices of £75 were also blamed."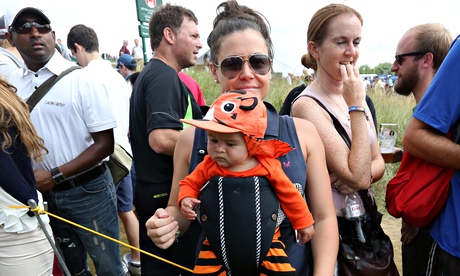 I'm going to take option two because if that was a heatwave...
Ewan Murray reports:
A total of 202,917 fans watched Rory McIlroy's triumph during the week, down on record figures of 228,976 when Tiger Woods won eight years earlier.

Numbers were down on practice days and each day of competition, although perhaps surprisingly the biggest single drop occurred on Friday, with 43,183 spectators at Hoylake, down 7,343 from 2006.
While I wouldn't ever endorse that price to watch golf...in today's dollar about $4,502 I believe. But it's hard to imagine the crowds getting any larger without the viewing experience severely impacted. Royal Liverpool only has viewing dunes on a few holes, otherwise you're relying on grandstand seats that filled up quickly.

A word about the R&A set up and infrastructure: I saw many major improvements in the presentation of the grounds and fan experience. They are certainly investing some profits to give the fans their money's worth at that high price, from the stellar WiFi/app effort to (finally) a modern day merchandise tent with other touches like storage for purchases and UPS worldwide shipping, The Open certainly feels like a special event when you walk the grounds.


Hoylake works very well as a venue from an infrastructure and fan access point of view, especially with the ability to take the train to the course and be dropped off just ten minutes from the action. Liverpool is a modern, beautiful city with a vibrancy that is exuded in the kindness of the people there. What a joy to return to such a fun city after a day at The Open.
Royal Liverpool's architecture ultimately left many a little underwhelmed compared to other rota links. Maybe it's the in-course OB or perhaps the excessive narrowness to stifle modern distances, but as the scoring showed, the R&A must do everything outside of rolling back the ball to give them a test here. However, you can't argue with the course's ability to once again produce a worthy champion.