Anthony Baxter centered a film around the building of Trump International and the efforts to displace nearby residents. Now he's gotten The Donald to sit down with him to talk about golf and the environment for a new film hitting UK theaters today called A Dangerous Game.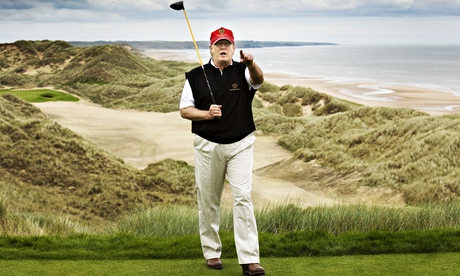 In a guest piece for The Guardian, Baxter wrote about those who talked to him (the Trumps) and those who would not (Greg Norman, Peter Dawson, Alex Salmond).
Greg Norman didn't want to talk either. He is the designer and public face behind a golf course at the world heritage site in Dubrovnik, Croatia, that UN experts say may do "irreversible harm" to one of the most beautiful and historic cities in the world. But the two-time Open champion refused to explain why he is still going ahead with the project despite the fact that 84% of local voters rejected it in Croatia's first official referendum.

Perhaps most troubling was the silence from Peter Dawson, executive director of the R&A, the British organisation that claims to govern golf worldwide. We wanted to ask Dawson about how the R&A can facilitate and promote the expansion of the sport in places where golf course developments blatantly violate the R&A's own environmental guidelines, and where the sport is reserved for the very richest and most powerful.
The trailer, which looks a tad over-the-top: