If you've seen any coverage of the Latin America Amateur Championship brought to you by the Augusta National Golf Club, USGA and R&A, you've noticed Chairman Billy Payne sporting his green jacket off club grounds. ESPN.com's Bob Harig covers the very calculated call to wear those coats at both the LAAC and the Asia Pacific Amateur.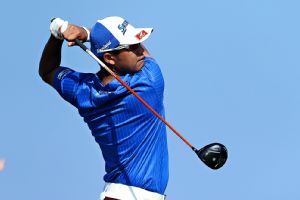 And he also notes the club's hospitality, even another continent away.
Putting on such an event is no small financial undertaking. Specific figures are not disclosed, but it is no stretch to say that the costs run significantly past the seven-figure mark.

Each of the players in the field is given airfare, accommodations and food. Even the caddies are provided. With more than half the players coming from U.S. colleges, flights to Buenos Aires add up. A price tag of near $500,000 would seem reasonable just for that aspect of the tournament alone.

Then there are all the other elements that go into running an event. Undoubtedly the Masters, the R&A and the USGA have leaned on their corporate partners such as Rolex, AT&T, Mercedes and others to help defray the costs. But it is a significant commitment nonetheless.

"We have the time, we have the resources, and we believe it to be completely consistent with what our founders believe," Payne said.
There's currently a four way tie for the lead in Buenos Aires with a Masters berth on the line. Ron Driscoll reports.
**The Chairman gave a rare sit-down interview to Golf Channel's Rich Lerner, talking LAAC, Bobby Jones and why the Masters gives a spot in their field to the winner this week.