While we await next Tuesday's Ryder Cup press conference announcement to confirm that we'll have 18 months of hearing about Davis Love redeeming the 2012 Ryder Cup loss at Medinah (oh joy!), Love is already revealing a few things that came up in the vaunted task force meetings.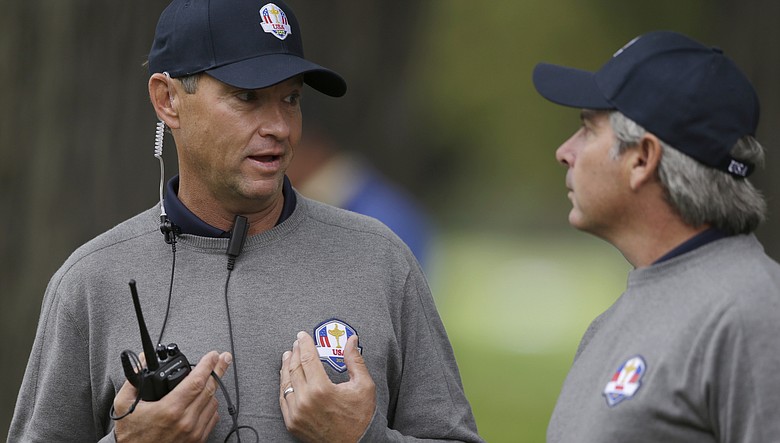 If nothing else, it seems, Love and Phil Mickelson finally talked about the curious Sunday hole location that at Medinah's 17th that gave the Americans fits.
Adam Schupak writing for Golfweek from Riviera, where Love is en route to a missed while a potential future Ryder Cupper is missing out on a chance to pick up a few points.
Love fell on his sword then and now, but the captain can only take so much blame when his players failed to earn more than 3 ½ points out of 12 during Sunday's singles competition. When asked his biggest regret from Medinah, Love said, "There's about 10. I learned a lot. I learned a lot from Darren Clarke the night after Medinah when we sat around and talked. I learned a lot in the process with the task force. Phil (Mickelson) and I hadn't really talked about Medinah until the task force. What was great about it is we were very open and honest. He said, 'What was with the pin on 17?' I said, 'I know.' Why was the pin over on there? We needed it in the middle of the green. We can all hit it on the green. We let tradition stick it on the right. I'm not blaming anybody. I'm blaming myself. We won't make that mistake again."
Definitely, especially since the matches are at Hazeltine instead of Medinah.

Anyone else think it's odd it took a task force to clear the air on something as basic about this?
We kicked around the 2012 Ryder Cup course setup topic here and the main takeaway was less about that one hole location and instead, the backfiring of course setup as a way to win when it only inspires the visiting team.
In the weeks after the Cup, Alex Miceli revisited some of these matters with then-former captain Love.
"I don't get mad at whoever is writing articles saying we should have done this, should have done that, because as soon as we get done, we all go inside and we talk about the shots that guys hit; can you believe this guy did that and that guy did that," Love said after a nine-hole practice round for this week's Justin Timberlake Shriners Hospitals Open, in which he will play his first competitive tournament in more than a month. "What's hard for me is why you would second‑guess the first two days. I can see second‑guessing Sunday, because we got pounded. But we pounded them the first two days."