So soon after the World Golf Hall of Famer received the Presidential Medal of Freedom in November, Charlie Sifford has passed from complications of a recent stroke and bacterial infection. He was 92.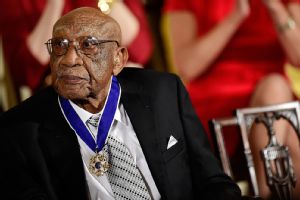 An ESPN wire services story ledes by noting that Sifford was "often called the Jackie Robinson of golf."

Cliff Pinckard with a social media roundup.

A Cleveland NewsNet5 story by Leon Bibb that aired at the time of Sifford's honor has been posted and remains relevant even after his passing.
**Mike Kupper of the LA Times (at least he was many years ago) filed this excellent obit.
GolfChannel.com's roundup of various social media tributes to Sifford.

Larry Dorman's PGATour.com obituary includes statements from President Barack Obama, Jack Nicklaus and PGA Tour Commissioner Tim Finchem.
Chris Dufresne of the LA Times has Tiger Woods' reaction.
Golf Channel's remembrance piece (video).
On Golf Channel at 9 pm ET Wednesday the documentary featuring Sifford, among others, re-airs.