Here's the good news: rock bottom for the Walker Cup and Team USA has been hit! And almost no one saw the carnage!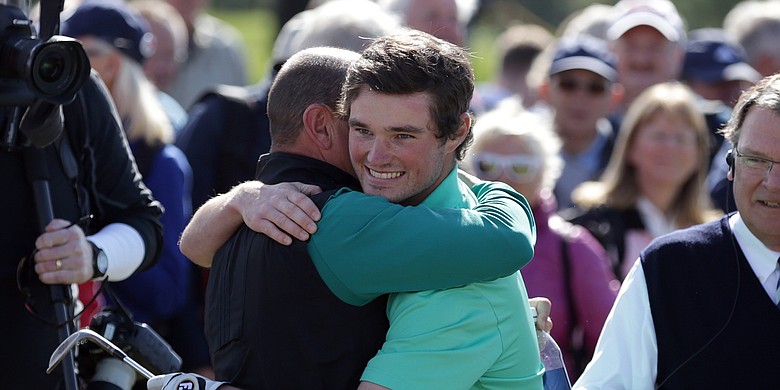 Buried over on ESPN3 was the BBC coverage for American viewers (where Peter Alliss and friends entertained) on the first Sunday of NFL action. So for the five people who could get the WatchESPN app to work, it was a blowout for the ages.
That's because Team USA went to Royal Lytham & St. Anne's and lost in record fashion and also for the fifth time in six visits to the links of the UK. And continuing the trend of other American teams, they predictably stunk up the foursomes play.

Oh, and they lost to a Great Britain & Ireland team that rose to the occasion.
Alex Miceli at Golfweek.com reports that "the result was almost a fait accompli before the 10 singles matches commenced on Sunday afternoon with GB&I holding a commanding 10-6 lead."
That's fair to say. So congrats to the UK's best young amateurs.

Team USA was undone in large part by 21-year-old Jimmy Mullen, who Alistair Tait at Golfweek.com reports joins "Paul Casey and Luke Donald (1999) and Andrew Oldcorn (1983) as the only players to record four wins out of four in Walker Cup history."


The R&A's official site reports on the 16½-9½ win at the 45th Walker Cup and includes this highlight video.
Now, the bad news for Team USA.
After a thrilling win in 2013 at the National Golf Links, the big win by GB&I leaves the American team and the ultra-secretive USGA-designed selection process in shambles. After all, as Ryan Lavner noted, the USA only leads 6-5 in the series since 1995 despite having about a 250,000,000 million popularion advantage.

While Great Britain & Ireland is getting better and might have won this match even more handily had they included Sam Horsfield, Team USA was in charity mode again this year, adding two mid-am's in a career celebration that, while admirable, makes you wonder if an effort is being made in Far Hills to win the event or just reaffirm to lifelong amateurs that they too, are people worthy of inclusion even if the numbers say otherwise
Just think, Florida freshman Horsfield passed on the cup for personal reasons and debuted at the Carpet Capital Collegiate with a T4. (Kevin Casey reports.) Had Horsfield played, GB&I might have won by more. It never hurts to face Team USA mid-ams who went 1-5 and have gone 3-8 since the USGA mandated their team include two players over the age of 25.

While the news was bad at Lytham, there is this: the Walker Cup is an exhibition and Team USA appeared to represent their country well. That's all that ultimately matters to most Americans, but not all. Plus, it's not Team USA's fault that the USGA has a super-secretive selection process creating bad karma with the mandatory two mid-am picks.

And it's not the fault of players that the USGA is beholden to a corporate arrangement with Ralph Lauren that has the players wearing four uniforms in two days of competition, making them look like fools in a blowout loss by auditioning Ralph's latest and greatest at an amateur golf competition.

Either that, or the USGA has decided to spend their Fox money on uniforms and Ralph is just going along with the excess. Regardless, the emphasis on style over substance did not go unnoticed.

Given what we've seen of the current USGA mindset of valuing loyalty and perceived tradition over the most basic common sense, changes to the team selection process will be unlikely. They should be striving to improve Team USA's chances when the matches are next played September 9 and 10, 2017 at The Los Angeles Country Club, but that would require Chairwoman Diana Murphy and friends to take a hard look at their own committee's decisions prior to this Cup.

Does any of this matter? Only in a first world sense.

In the world of modern sports, the Walker Cup is about to get more important because it's about to be televised, and we know you aren't happening in this world unless you are on TV.
With Fox televising in 2017 and Golf Channel moving in with the 2019 matches, this historic amateur competition is about to see a new spotlight. Which is why it's time for the USGA to end its secret selection process that fueled rumors of old boys network activities (fueling this year's mid-am selections even though they were the last two U.S. Mid-Amateur Champions). The lousy karma and bad blood from people who should be the USGA's biggest supporters over the mandatory mid-am selections is quietly undermining America's effort.

Most of all, the need to publish a Walker Cup points list detailing who is earning their way on to the team is vital for two reasons.
There's the USGA's credibility that is on the line, if they even care. Letting players earn their way on without having to pass some imaginary character test from an anonymous committee of people who have never played the game at a high level, is essential.

And a points list makes common marketing sense heading into the 2017 matches. You know, making people aware that one of golf's most historic and thrilling competitions is actually taking place.
Besides, if you don't do anything, there will be calls for a task force. Don't tempt us!