Jaime Diaz of Golf World kindly takes John Daly's Senior Tour Champions Tour PGA Tour Champions debut this week seriously, as has the PGA Tour, which arranged a conference call with the two-time major winner. Golf Channel even racked up the 1991 PGA Championship to launch Big John's Geezer Tour debut.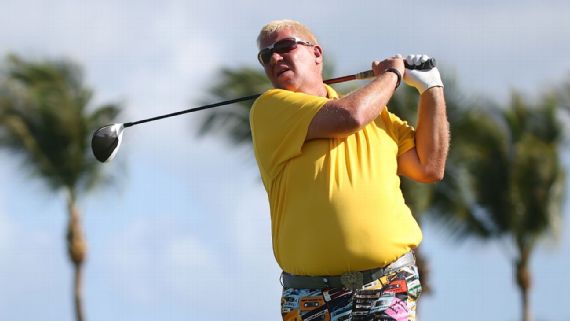 Mitzvah!

Funny how in the name of a dollar, the PGA Tour is looking past its mostly tortured, relentless negative relationship with Daly.
But as Bob Harig of ESPN.com notes, the numbers most associated with Daly are less than flattering.
Eleven times he was cited for conduct "unbecoming a professional," 21 times for "failure to give best effort." The missed cuts and withdrawals were only outdone by the sponsor exemptions that tournaments continued to give him, his drawing power still that great.

Four wives, nine lives -- the only thing left for Daly is another second chance at golf, and it comes in the form of senior golf.