Bloomberg's Scott Soshnick with details of a new PGA Tour-Twitter broadcast partnership that covers 31 events and 70 hours over the course of the season.
Essentially they will provide 60 or 90 minute pre-game show coverage before PGA Tour Live and Golf Channel's weekday coverage commences.
PGA Tour Live has been providing coverage in the pre-Golf Channel window and will continue to be there for its subscriber(s). Theoretically this deal will encourage more to sign up for the paid PGA Tour Live service and gives the Tour more of the digital presence new Commissioner Jay Monahan telegraphed in this Q&A. There is also the big-picture effort to create new distribution channels for eventual Golf Channel negotations when that deal expires in 2021.
**The details suggest this is more of an effort to prop up PGA Tour Live than first realized, and even lighter on actual live golf coverage than first thought.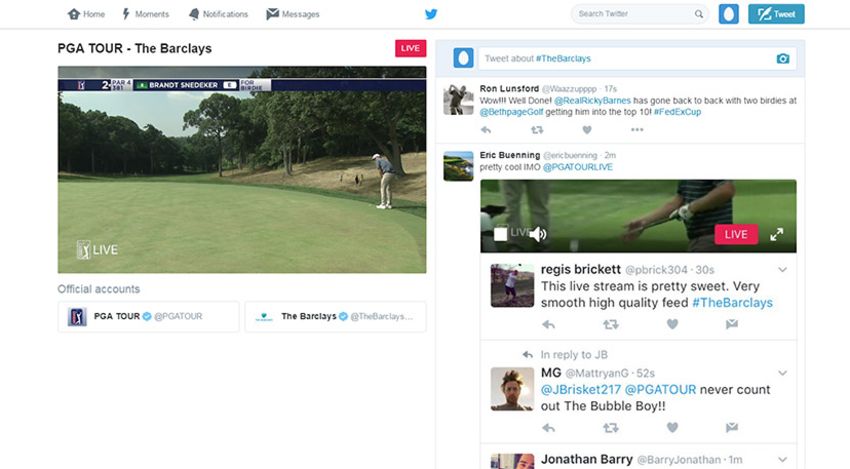 The Twitter coverage will be initial window of PGA Tour Live coverage ($39.99 annually). Once the tour moves to the central and eastern time zones, this will be virtual middle-of-the-night coverage for west coasters.
Twitter will begin live streaming at the CareerBuilder Challenge on January 19 and conclude at the season-ending TOUR Championship. Coverage typically will include the first 60 to 90 minutes from the early Thursday and Friday morning hours of PGA TOUR LIVE's Over-The-Top (OTT) subscription window, on a global basis. This coverage will include pre-game analysis, interviews, range coverage, and live competition from the first two holes of each day's PGA TOUR LIVE Marquee Groups.
The first two holes. Woohoo!
The live streams will be available globally to Twitter's logged-in and logged-out audience on Twitter and connected devices and can be found at PGATourLive.twitter.com and on @PGATOUR. The partnership also includes opportunities for advertisers, including packages with television style mid-roll spots, combined with original clips produced by the PGA TOUR, available for sponsorship and promotion on Twitter.
Again, the fantasy of ownership and revenue sharing seems to be the PGA Tour dream, instead of merely letting people write you checks.
The partnership also includes an extension of the PGA TOUR and Twitter's Amplify program, with PGA TOUR increasing its highlight videos and regular content creation across Twitter and Periscope.
Finally something that sounds smart!
"Twitter and the PGA TOUR have been working together on Twitter Amplify for many years now, and the program has been a tremendous success for both companies," said Rick Anderson, Chief Media Officer of the PGA TOUR. "Streaming PGA TOUR LIVE programming to Twitter's global audience, as well as the millions of users who follow @PGATOUR and hundreds of PGA TOUR player accounts, will provide new and innovative ways for sports fans to engage with our premium OTT offering."

"The PGA TOUR continues to transform the experience for fans on Twitter, a place where golf conversation is happening live in real time every day," said Anthony Noto, COO at Twitter. "Our collaboration with the PGA TOUR will provide fans all over the world access to watch live streaming PGA TOUR events on Twitter while following the conversation all on one screen."