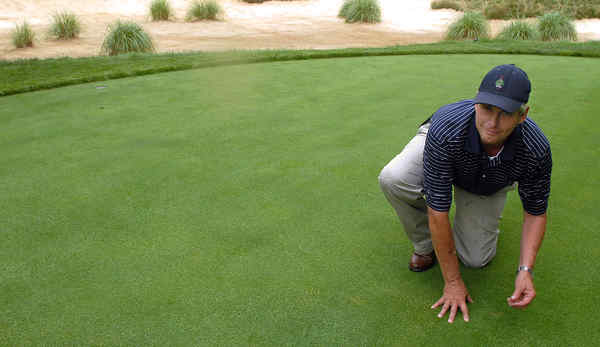 Thanks to the many readers who were just as tickled as I was by Merion superintendent Matt Shaffer's comments in a recent Philadelphia Inquirer story about prepping the course for the Walker Cup. William Ecenbarger writes:
Since he became Merion's eighth superintendent in 2003, Shaffer has built a reputation as an innovator and a believer that playability - the challenge a course presents to the golfer - is more important than aesthetics.

"Merion is an old-fashioned golf course in a modern world," he says, standing at the first tee. "Television has changed everything. Appearances are all that matter. At Merion, we are less sensitive to matters of aesthetics and more interested in playability. Other courses use much more chemicals and fertilizer than we do, but if more golfers were less concerned about brown grass, golf would be a lot cheaper for everyone."

He lays down his words like a challenge. "I water as little as possible. Water is the catalyst for growing grass, but the less moisture you have, the less likely you are to have disease."

Before 2005, watering was hit or miss, with primitive probes and pocket knives used to judge moisture. But that year, Merion installed sophisticated sensors, each about the size of a beer can, on greens, fairways, and roughs. The sensors send data to Shaffer's office computer.

"It's like a CAT scan," he says. "When I don't have to water, I don't. The sensors are an edge against Mother Nature. Joe Valentine would have loved them."