This one may set a record for length, so I won't bore you with too much. But this is one magical week we'll talk about for decades. And while the players delivered a great show, lost in the recaps will likely be enough praise for the golf course maintenance crew that had the course playing so well, the course setup committee that appeared to get it right in just about every sense (this year) and the CBS crew that did a fantastic job somehow covering a deep and changing leaderboard.
Someday there will be a great story about what went on behind the scenes this week, but for now here's what we know...
Ledes
Doug Ferguson for the Associated Press:
The finishing touch of a most amazing Masters was Charl Schwartzel slipping into a green jacket. Until that moment late Sunday afternoon, everything else at Augusta National was up for grabs.

The roars came from everywhere, for everyone, and never stopped.

Tiger Woods made up a seven-shot deficit in nine holes — too bad it was the front nine. Geoff Ogilvy ran off five straight birdies. Rory McIlroy matched the greatest collapse in Masters history with a stretch of holes not even Greg Norman would want to watch.

It was so wild that eight players had at least a share of the lead on the back nine.

Schwartzel emerged from all this madness with a magical touch of his own. He became the first Masters champion in its 75-year history to finish with four straight birdies, giving him a 6-under 66 for the best final round by a winner in 22 years.
Gerald Imray for the Mail and Guardian, South Africa:
Charl Schwartzel marked the 50th anniversary of Gary Player's breakthrough first international win in the Masters with another South African victory at Augusta National.
South African fans had to stay up late to watch it.

It was 12.48am in Schwartzel's hometown of Johannesburg when he made the last of his four straight birdies to finish off a two-stroke victory over Australians Jason Day and Adam Scott.
James Corrigan for the Independent:
Through the wreckage of Rory McIlroy's Masters dream marched Charl Schwartzel here last night. The South African's joy at winning his first major was in direct and pitiful contrast to the devastated young Ulsterman. A crestfallen, shattered figure who limped out of Georgia as forlornly as Greg Norman 15 years before.
Lawrence Donegan for The Guardian:
The 2011 Masters was won by the South African Charl Schwartzel but it will always be remembered for the sight of young Rory McIlroy, head in hands and near to tears as his major championship dreams were swept away in the compelling theatre of an Augusta afternoon.
Larry Dorman filing for the New York Times:
Fifty years to the day after Gary Player, the godfather of South African golf, became the first international player to win the Masters, his countryman Charl Schwartzel won the 75th Masters on Sunday, breaking though a chaotic afternoon shootout by birdieing the final four holes at Augusta National Golf Club.

As roars exploded like cannon fire through the pines, saluting eagles and birdies by the seven other players who either held or shared the lead, Schwartzel, 26, a thin man with a muscular game, came from four strokes off the pace with the day's low round of 66 for 14-under-par 274.
Derek Lawrenson for the Daily Mail:
In the entire history of major championship golf we've rarely witnessed anything like this. We've seen any number of players choke, we've witnessed plenty more simply not having the skills to cope with the suffocating demands of a Sunday afternoon.

But has a man in a position to win ever suffered three holes to match those that befell poor Rory McIlroy in the final round of the Masters on Sunday? Amen Corner they call it, and everyone had better say a prayer for the young Northern Irishman after this disintegration.
The Irish Times' Phillip Reid understandably also went with the Rory angle:
A STEP too far, too soon? If we all believed he was ready to take his place at golf's high altar, Rory McIlroy's quest to claim the 75th edition of the US Masters here at Augusta National yesterday ended in a degree of ignominy as he suffered a final round collapse which left him licking mental scars that could conceivably take some time to heal.
Steve DiMeglio of the USA Today:
On a wild Sunday at Augusta National, roars echoed through the towering pines as eight players, including Tiger Woods, held at least a share of the lead during the final round of the 75th Masters. The winner turned out to be the soft-spoken son of a former golfer who was playing in this hallowed event for the second time.

Quick Round-Ups
If time is sensitive, you're best going for one of the quick roundups.
Sam Weinman's Birdies and Bogeys with photos.
James Achenbach's awards for the week.
A CBSSports.com final round wrap-up show of highlights with Ian Eagle and Matt Gogel.
And a similar video highlight package from ESPN.com:
Charl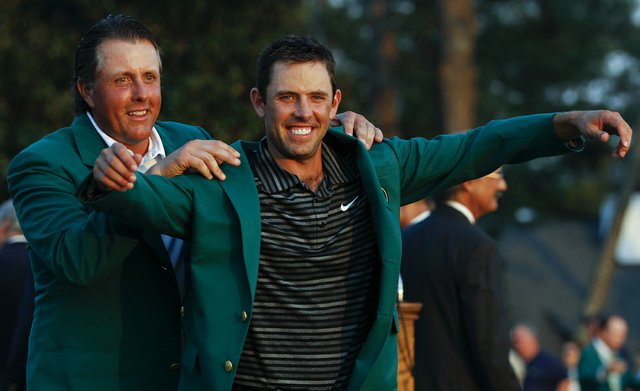 Sean Martin with more on the champion, his background and this from his caddie Greg Hearmon:
"He was so calm, and so relaxed," Hearmon said. Schwartzel credits his father for his ability to remain calm as the roars arose all around him, ironic for a man that worked in the family farm, and pilots his own plane, because he enjoys quiet and solitude.
Steve Elling with the full backstory of Schwartzel's quick education in how to play Augusta courtesy of Jack Nicklaus and notetaker Johann Rupert. And how he likes to kill animals.
Schwartzel is a pretty serious game hunter who once drove hundreds of miles north with his wife to go on a wildlife safari in the Serengeti. Sunday he got a huge taste of what it's like to be both hunter and prey.
"I don't think I ever prayed so much in my life," he said.

Guess that's why they call it Amen Corner. Who's to say there wasn't some sort of divine intervention -- he became only the second player since 1990 to win at Augusta when not playing in the final twosome on Sunday.
Bob Harig with details of the behind-the-scenes world involving Charl, Rory and their ten-percenter Chubby Chandler.
Schwartzel had remarked over the weekend how calm McIlroy appeared, especially when visiting him at a function put on by the management agency for both players, International Sports Management.

The company rented out a house in Augusta and threw a party on Friday night that was attended by several clients. They were to have another one Sunday night, although it was expected that McIlroy would be the beneficiary. Instead, it was for Schwartzel.

"It'll be a wake as well," quipped one of the management company's employees.
Chris Gay reports that Gary Player is already becoming insufferable is touting South Africa's superiority. It sounds just like what we heard after Trevor Immelman won.
"It means an awful lot," Player said. "South Africa is a great sporting nation. We've had great rugby players, great golfers, great hurdlers, great cricketeers, great swimmers. Physical training is a big part."
David Dusek breaks down what is in Charl's bag.
Rex Hoggard says Schwartzel and Rory are on a 5 pm flight Monday to Kuala Lumpur for next week's Malaysian Open. Nice scheduling Chubby!
Someone signed Charl up for Twitter right after winning, but we don't know if it's an official account or not.
Rory
John Huggan on Rory's rough day:
It was, long before the card was signed and the inevitable tears were shed, all but unwatchable. On and on it went, this round from hell, at every turn getting worse and worse as one of the most naturally talented players in the world game eventually took Amen Corner at a speed that could only result in a crash of spectacular proportions.
Brian Keogh has Rory's extensive post round remarks. A snippet:
McIlroy confessed he was "derailed" by his triple bogey seven at the 10th, where his tee shot ricocheted 100 yards left and finished between a couple of Augusta's famous cabins.
"I felt comfortable on that tee shot all week and for some reason I started it a little left of where I wanted to," he said "It hit that tree and I don't think anyone has been over there near those cabins before. The seven on 10 sort of derailed me a little bit. It was hard to get back from there."
More of Rory on this ESPN video.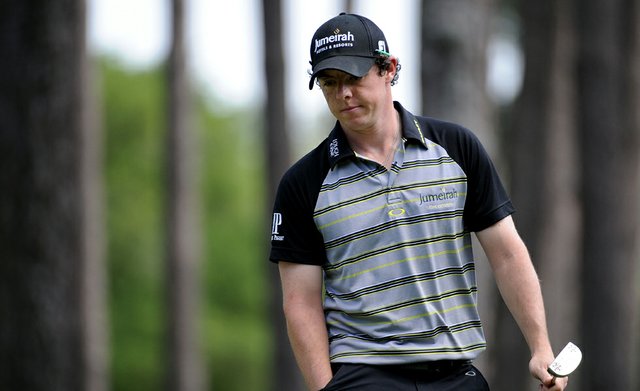 Alistair Tait on how this is not the first time Rory has handled a huge disappointment with class.
Don't fear for McIlroy. He, indeed, will bounce back from this all the stronger. The smile on his face when he walked off the 18th green said as much. The fact he made himself available for interview when he walked off the 72nd green was pure class. He could have been forgiven for storming off the golf course.

"The thing about Rory is that he takes everything in his stride," father Gerry once said. "Nothing seems to faze him."
Brian Wacker on when the Rory collapse hit home for the young lad:
"When you could hear all those roars," McIlroy's agent Chubby Chandler said. "That's fairly unnerving having never been in that position."

Some of those roars were for Woods, who was putting on a charge of epic proportions. He would falter, too, but his day was nowhere near the debacle McIlroy's had become.

McIlroy's situation drew dire with a triple bogey on No. 10, where he hit his tee shot so far to the left that it landed next to Peek and Berckman Cabins, which are practically off the property.

When McIlroy sent another tee shot straying off into orbit on No. 13, his shoulders slumped and his head dropped over his arm; McIlroy's body held up only by his driver.
"I'd sort of realized, unless I birdied my way in, I realized I didn't have a chance," McIlroy said. "I realized that was it."
Gene Wojciechowski goes the dark humor route on the Rory meltdown, which may be the best way to look at Sunday's 80.
"He's an old 21," said Chandler, about 90 minutes before McIlroy teed off Sunday. "He looks 15. He plays like he's 30. And he's got a shrewd head on him."

By early evening he looked 115 and played like he needed MedicAlert. Any scarier and it would have straightened his curly mop of hair.

On the par-4 10th hole, he hooked a drive into "Star Trek" territory, going where no pro has ever gone before: in between the cottages located far, far to the left of the fairway. Said BBC commentator Peter Alliss in grave tones: "It's moments like this that the game becomes very cruel."

Triple-bogey 7. His lead was forever gone.
Thomas Bonk with this take from Phil Mickelson:
"It's very hard to sleep on the lead," Mickelson said. "It's hard to come out and play aggressively when guys are chasing after you and you've got the lead. We have seen guys do it over and over in history, throughout history at this tournament, guys want this thing so bad that sometimes it's hard to perform at the highest level."
Tiger
Gary Van Sickle for golf.com:
I got an e-mail from a friend who watched Tiger's post-round interview with CBS. Woods was no doubt irritated (as is his habit) that he didn't play a perfect final nine. Irritated because he knew deep down that his score of 10 under par wasn't going to be good enough to win a fifth green jacket and a 15th major championship, which would've been sweeter than we could possibly imagine after what he's gone through. My friend asked if Tiger has been taking a-hole lessons. I responded that no, most people think he's already got a black belt in that. He is back to not answering most questions. The interviewer asked him what it was like to play well under pressure for the first time in quite a while. "I hit it good all day. This entire weekend I hit it good. So that was a nice feeling," he said.
Tiger gives up nothing. Never has, never will. He takes losing hard.
However, at the time Tiger was still very much in the championship so he hadn't lost yet. I reviewed the tape for Golf World Monday and will link the item here Monday.
Jay Busbee on how Tiger's play gives all sides something to like:
Which brings us to this weekend's Masters. This was catnip for both Woods worshipers and detractors; both sides could take something from this. Woods fans got the knowledge that their man still has game, that he might still have a major win or five left in him. Woods haters got the satisfaction of seeing him implode on the back nine, seeing that green jacket fade from his view putt after short missed putt.
Jeff Ritter talks to fans about the Tiger roars.
"When they threw up Tiger's birdie and an eagle at the same time [on the scoreboard at 11], this place went crazy," said Fred Roddy, a 53-year-old Atlanta native who was attending his 15th Masters. "People here are usually polite. It's not a party, it's about the golf.
"But this is as nuts as it ever gets."
Mike Freeman made me laugh with this bit about Tiger not caring whether he's liked or not. You know Tiger, the public apology press conference guy!
But make no mistake: Woods doesn't give a damn if he's liked or not. In one of his interviews following the final round, his answers were short and overflowing with jerkiness. When you compare Woods' obnoxious behavior with the graciousness of McIlroy's it's easy to see why, despite Woods' tremendous efforts, he'll never be forgiven in some quarters.

Woods was asked if he felt a corner had been turned, and in typical Woods fashion, he refused to bite. "...we'll see what happens," he said. Typical Woods. Give 'em nothing.
These are the young players who have learned from Tiger but aren't afraid of him. Each time he doesn't win, they become more emboldened. While it's true that the 21-year-old leader, McIlroy, came apart under the pressure (more likely just from leading the Masters than because of Tiger), the others did not. And they seem to be coming in waves, from all over the globe.

Tiger's uneven play is only part of the story of his confounding comeback from his unprecedented fall from grace. His uneven behavior is another part of the conversation, and it unfortunately doesn't seem to be getting better, either.

Woods' demeanor bordered on the terrible when shots weren't to his liking this week. He pouted. He pounded his club into the ground. He walked away. He swore. And when he finished a round and didn't like that, his answers in interviews were just as bad. (His CBS appearance Sunday has to be one of the 10 worst by a superstar in sports history.)
I wrote an item for Golf World Monday on Tiger's interview.
Michael Buteau for Bloomberg on the changing scene in golf:
Standing near Chandler under an oak tree near the clubhouse, 2008 U.S. Ryder Cup Captain Paul Azinger was among those taking note of the leaderboard filled with young international players.

"Tiger is creeping past his prime now," Azinger said in an interview. "The next generation is coming and they're from all over the world."
Robert Lusetich wraps up Tiger's week with this:
As Woods left, jumping into the black SUV with Williams behind the wheel, he didn't seem particularly happy, either.

For he knows those five majors he needs to overtake Jack aren't going to get any easier to win.
And though the writers aren't going to do a little deep tissue ego massaging, Tiger always got the people on his payroll! Greg McLaughlin, still Tweeting:
Shower break!


Aussies
E. Michael Johnson on how close we were to having the first major winner with a club that should be illegal and shares the backstory of how the fishing reel ended up in Adam Scott's bag.
The Aussie put the putter in play at the Match Play and now his near-win with a 49-inch Scotty Cameron by Titleist Kombi at Augusta National may help remove a stigma that has long hounded those using longer-than-normal putters. Ernie Els once said in reply to Trevor Immelman winning an event with a belly putter that "Nerves and the skill of putting is part of the game ... take a [pill] if you can't handle it."
Paul Newberry on the Aussies' great day:
"He must have hit some beautiful shots," said Scott, who played with Day in the group right in front of Schwartzel. "He's got a hell of a swing. Certainly he's a guy when you're out there playing with him and you see him strike the ball, you take notice because it's pretty impressive."

So was Day, who hardly looked like a Masters rookie.

He posted the best round of the tournament on Friday, a 64 that vaulted him into contention, and he never wavered even after struggling on the front side Sunday.

The 23-year-old Day birdied four of the last seven holes, making clutch putts at 17 and 18 that gave him a glimmer of hope until he saw the numbers Schwartzel was posting.

"You can't do anything about a guy who birdies the last four holes of a tournament," Day said. "If you want to go out and win a tournament, that's how you do it."
Tom Spousta explains how each of the Aussies got a consolation call from Greg Norman.
"He's very proud of what we did out there and how we played," Day said. "I don't think there's going to be a drought for too long. I think Australian golf is right where it needs to be.

"One of us is going to win that Green Jacket one day."
Bill Fields about what this means for Australian golf:
Ogilvy, the 2006 U.S. Open champion who started the final round seven back of 54-hole leader Rory McIlroy, had a birdie binge (Nos. 12 through 16) more impressive than Schwartzel's. "Especially since Greg [Norman] was getting close so many times, it became a big deal for Australia, and I promise you there's millions of people awake at this moment watching this," Ogilvy said with the last couple of groups still on the course. "They're pretty excited."

If not for Schwartzel's magical run, they would have been jubilant. "You can't do anything about a guy who birdies the last four holes to win a tournament, especially the Masters," said Day, who, like Scott, received a consoling phone call from Norman, a three-time runner-up at Augusta. "He's very proud of what we did out there and how we played," Day said. "I don't' think there's going to be a drought for long."
The Men Who Will Watch The Royal Wedding

Paul Mahoney on the English contingent's showing, led by T4 Luke Donald.
While Donald can at least celebrate a high finish, his countrymen — Lee Westwood, Ian Poulter, Paul Casey, Justin Rose and Ross Fisher — leave Augusta National still searching for the key to major success. The forlorn fivesome played solidly at times, but all fell short of expectations.

So what went wrong this week for the English? "It's all down to skill, precision, good decision-making, guts, intensity and determination," said Nick Faldo, who remains the last Englishman to win a major title, at the 1996 Masters. "Our guys have all those qualities. What they've got to do next is learn how to hang on. The major victories are coming."
John Steinbreder's story on Hideki Matsuyama's finish as low amateur includes a video of the green jacket ceremony and this:
Matsuyama's four-day total score was the fourth lowest for an amateur in Masters history, and the same one Jack Nicklaus posted as an amateur in 1961, Nicklaus' third Masters.
The Masters
John Paul Newport says "repeated viewings may be the only way to wrap one's mind around the wild finish."
Furman Bisher called it a strange one.
It was, if I may be allowed the freedom to say, one of the strangest Masters I have ever seen. Strange swings from one seeming champion to another, Woods' fade-out, Day's slump and then revival, Adam Scott's seeming victory before Schwartzel put his foot to the pedal. Strange, weird, inscrutable, and all those things, but what a day to have been in the gallery.
Dan Wetzel on the scene that developed in the club Grill Room, where players and family congregated to sort out the conclusion.
There was Geoff Ogilvy, fresh off a five-birdie streak on the back nine that got him to 10 under. He walked in looking spent and seeking his wife.

"Have you seen Juli?" he asked to a friend.

Once he found her, they debated at what point he could have a drink. Eventually, when it was apparent he was done; he simply untied his shoes and conceded the day.

Out of respect, people could neither cheer too loud nor express even the slightest hope for an ugly drive or water ball. This is a gentlemen's game and this is Augusta National where decorum rules, even amid the madness. Plus you didn't know who was at the next table.

It was the strangest of scenes, people politely applauding the beautiful shot that eliminated them.
The Sunday show left everyone gasping for air and grasping to find anything comparable. Who knows how history will treat it as some of these young players start building their résumés with other major wins? But one thing that will never be forgotten is the spell-binding drama of the world's best golfers careening six-wide down the stretch.

"That was quite a shoot-out," said PGA Tour Commissioner Tim Finchem on his way to the green jacket presentation. "I think Billy Payne ought to just read a list of names at the ceremony: 'I'd like to thank the following players for lighting it up the last five hours.'"

We all should thank them for that. A Masters this memorable is a gift.
Ron Sirak on where this one rates:
Few have. This was a Masters that had elements of four of the greatest. There was 1975 when Jack Nicklaus held off Johnny Miller and Tom Weiskopf to win by one. There was 1996 when Greg Norman squandered a six-stroke lead with a closing 78, a tragic ending replicated Sunday by Rory McIlroy, who came into the final round with a four-stroke lead and lost all feel for the game in an 80, an outcome made even more painful by the fact he's only 21 years old.

There were also elements of 1997 when Woods, also 21 at the time, won the first of four green jackets by 12 strokes. On this day however, as he sought redemption and his first major win since the 2008 U.S. Open and first Masters since 2005, Woods went out in 31 to jump to the top of the leader board but came home in 36, again missing crucial putts when he needed them most.

But most fittingly, this memorable mad scramble to the finish line came on the 25th anniversary of the historic win by Nicklaus in 1986 when he shot 65 in the final round -- 30 on the back nine -- to win the last of his record 18 major championships at the age of 46 by holding off Tom Kite, Greg Norman, Seve Ballesteros and Nick Price -- all members of the World Golf Hall of Fame.
Thomas Bonk quotes Phil Mickelson on the course's ideal vulnerability this week:
Mickelson stated that the course was ripe for scoring; he just couldn't take advantage.

"Greens receptive, pins in spots you can get to, not much wind," the three-time Masters champion said. "But I struggled with the blade again and it was a frustrating week, really. I love these greens, I usually putt them very well, but I struggled this week."
The final course stats are here. It played to a 72.4257 average, with the embarrassing 11th playing as the toughest hole and the first playing as the second toughest hole. The two easiest holes? 13 and 15, as it should be.

I filed a Golf World Monday item about Augusta playing better when it's softer.
Mike McCallister on the wild and wacky day:
With McIlroy falling back and Tiger stagnating, endless opportunities presented themselves for the other contenders to make a back-nine move.

Geoff Ogilvy reeled off five straight birdies to get to 10 under.

Van Pelt eagled the 13th to get his name in the mix.

Angel Cabrera didn't appear to be going away. Neither did steady K.J. Choi (more on that later). Luke Donald's day seemed derailed when he found the water in Amen Corner, but he rallied back.

"I don't think I've ever seen a Masters this close," Donald said.

Adam Scott was playing beautifully and became the first player to reach 12 under, while fellow Aussie Jason Day -- McIlroy's playing partner the first three days -- kept firing at every pin.

At one point, Ogilvy, Scott and Day had a share of the lead with Schwartzel and Cabrera. Every heart in Australia began pounding faster. A 60 percent share of the lead on the back nine? Surely this was the day one of their native sons wins at Augusta.

"It's amazing what happens at this place," Scott said.
Bonk reports that Scott is among those earning a return invite:
The top-16 finishers will receive automatic invitations to the 2012 Masters if they are not otherwise eligible. In addition to past champions and other players all but certain to earn invitations under other categories, the top-16 included Jason Day, Adam Scott, Bo Van Pelt, K.J. Choi, Ryan Palmer, Justin Rose, Steve Stricker, Edoardo Molinari, Brandt Snedeker and Ross Fisher.
The money breakdown is here, courtesy of the Augusta Chronicle.
Images
Golf Channel.com with the best of the week.
Augusta Chronicle Green Jacket ceremony, Charl Schwartzel, a Final round gallery, a nice NY Times gallery.
Telecast
Brad Klein actually wishes there were more bathroom breaks in a telecast where it seemed like CBS threw out the playbook and went with the incredible spectacle that unfolded.
And then they manage to let the golf speak for itself, with the first 64 minutes of Sunday's telecast run commercial-free and audiences enduring the combined sponsorship of IBM, AT&T and Exxon Mobil only 18 times during the entire five-hour show.

For the first time in golf history, I wished they had more ads. I needed more time than they afforded to negotiate the 64 steps downstairs to the refrigerator and back without missing any action.
And the final word goes to Michael Hiestand with this priceless graph in his USA Today review:
And CBS having to switch from shot to shot to keep track of the many contenders, which producer Lance Barrow did masterfully, had an unseen side benefit. Mercifully, it left no time for CBS to be distracted and, say, start paying tributes to Augusta's azaleas. (And OK, we have to admit it. For all the usual maudlin fawning over Augusta National, it's refreshing to watch big-time sports action without feeling pounded by TV commercials thanks to the club's famous limits on ads. Although it is kind of funny to think of Augusta's members insisting that free-market capitalism should be reined in.)