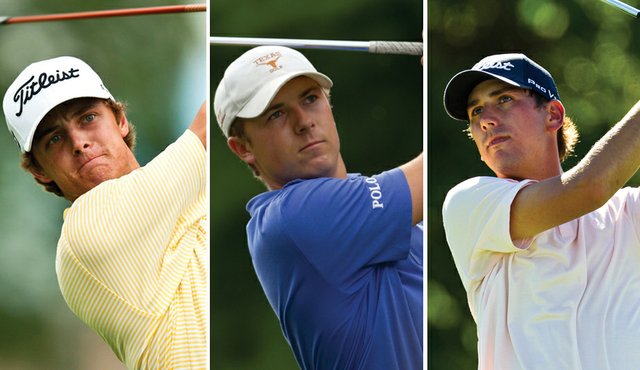 Ron Balicki runs down this year's Walker Cup selections by the USGA and captain Jim Holtgrieve. Even as a distant admirer of the race to make the team, all I can do is shake my head and wonder what John Peterson had to do to make the team.
After losing in extra holes in this year's U.S. Amateur sweet 16, the recent NCAA Men's Golf and Jones Cup winner and world No. 7 is the same player who missed winning the Nationwide Tour's prestigious Children's Hospital Invitational by a stroke this summer.
The obvious red flag recipient of a spot on the team is Blayne Barber of Lake City, Florida who lost in the first round of last week's U.S. Amateur. Balicki:
Barber, 21, who will be a junior at Auburn this season, was a member of this year's Palmer Cup team (2-1-1). Before transferring to Auburn, he was the Conference USA player and freshman of the year and second team All-America while at Central Florida. This summer he was fifth at the Southern Am and third at the Northeast Am and was an alternate for the U.S. Open. In 2010, he advanced to the Sweet 16 at the Western and North & South Amateurs and had top-10 finishes at the Players, Terra Cotta, Azalea and Jones Cup.
Nice resume and I'm sure a fine, patriotic American, but not even coming close to Peterson, who was high on Sean Martin's Walker Cup watch list just a month ago.
The skinny: Peterson's final-hole bogey cost him last week's Nationwide Tour event, but it did clinch him a Walker Cup spot. There's no way the selectors can leave off Peterson, who also won this year's NCAA Championship and Jones Cup.
Oh yes there is! This is the USGA. They have a track record here.
The most embarrassing part of the saga is Peterson's place on the USGA/R&A's own World Amateur Ranking: No. 7.
Barber just dropped to 55th.

This is Lanny-picks-Curtis bad. No, it's much worse.