Ryan Herrington explains the key to the Walker Cup, where the USA lost 14-12 to a GB&I team that appeared less impressive on paper, but which led from the beginning of the two-day matches.
A variety of factors, however, seemed to swing in the favor of the home side, starting with their comfort in playing a links-style course in front of a fair but supportive crowd. Only once since 1995 had the American team won on foreign soil.

Another intangible that worked in the GB&I's favor was the fickle weather. Saturday's play including intermittent rain and strong gusts from along the North Sea. Sunday lacked the precipitation, but included even stronger winds that made shot selection and trajectory tricky.

"I really think the difference was the conditions," Holtgrieve said. "Even though my guys have played in windy conditions, I'm just not sure that on the conditions like they were today, it does take some time to get used to those conditions. … I just think being around these conditions as much as [the GB&I team is] might have given them a little edge."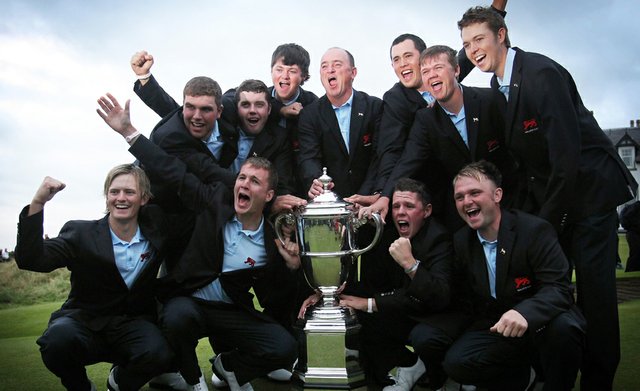 The numbers don't lie at Golfweek.com's comprehensive Walker Cup blog, including the last three selections by the USGA's committee going 2-6-2, with Jordan Spieth collecting both winning points.
Alistair Tait reports that the GB&I team never saw themselves as underdogs.
Edwards told his players to ignore the world rankings. "The match isn't played on paper."

"Did I expect to be sat here winning?" Edwards said. "Absolutely. I had had a quiet look at the things people had said and written, but I told the boys from the outset that they did not need worry about anyone else. All they needed to do was focus on themselves. They are very special and they proved that this week."

Scotland's Michael Stewart agreed.

"I don't think at any point we were underdogs no," he said. "It didn't really make a difference to us. We didn't really pay much attention to what was written. Nigel just let us go about our own business. We just focused on us and at the end of the week it paid off."
Golfweek posts this gallery of images.
The USGA's John Mummert's images are posted from the Sunday foursomes and also from Sunday singles.