I appreciate Brad Klein's sentiment in this follow up story on the Old Course changes debacle, but I just can't get past something in the story.
It's one thing to add back tees – an odd-enough exercise where some new platforms technically are beyond course boundaries. And a case can be made for reducing the slope of a section of the 11th green from 4 percent to 6 percent slope to a more manageable pitch of 2 percent to 3 percent to accommodate modern green speeds and recapture historic hole locations, such as the one Bobby Jones used in 1921. But moving bunkers, shifting the terrain and filling in hollows like the legendary one on the seventh hole – widely regarded to be a maintenance nuisance, but one that probably traces itself back to sheep taking shelter from the wind a half-millennium ago – all need to be undertaken at a slower pace than these edits have been through.

There's a worrisome precedent here, namely that the same body responsible for protecting the game is out there changing the world's most closely watched layout. There's no doubt that Dawson, Hawtree and the Links Trust are going about this with historical sensitivity and technical skill.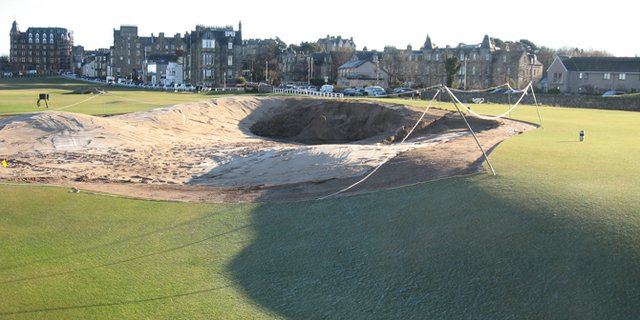 Uh, no there is plenty of doubt, actually.
The seventh hole, as Klein notes, did okay a certain way for several hundred years.
Also, if there was real skill and sensitivity, (A) why was there something to hide in not announcing the work, and (B) why is Dawson now second-guessing these suggested changes on the fourth hole because they were nominated by the course superintendent?
Maybe because they are ignorant ideas put forth by greenkeepers instead of architects?
Anyway, he concludes accurately:
But the threshold of change needs to be exceedingly high when we're dealing with a historic treasure as St. Andrews.

The latest changes to the Old Course all are individually defensible as improvements. But what's wrong with the occasional flaw and blemish? Leaving those things untouched in the ground is a powerful and sobering reminder that the game, like a very few of its historic layouts, is bigger and more important than any one of us.