Nice job by Rex Hoggard of pinning down new PGA of America President and runaway trainwreck Ted Bishop fudging the truth to XM host Matt Adams after being asked why he had not placed calls to Ryder Cup Captaincy lifetime runner-up Larry Nelson.
"The statement you just made is not true," Bishop said.

But less than two hours later Nelson told GTC that he had not talked with Bishop or anyone from the PGA of America regarding Thursday's captain announcement.

"If they had made a decision a little earlier and let me know. If they had just called us and said, 'We're going another direction,' I'd have been fine. I'm fine anyway," Nelson said around 10 a.m. on Wednesday. "The way it's come down and to have someone say that they did contact me when they didn't, that didn't make sense."
And then there was this bizarro statement:
"Let me say it saddens me that this thing has gone to where it has gone," Bishop said. "A few weeks ago (Toms) sent a letter indicating his interest in being a captain and I felt I should reach out to him as a former PGA champion and let him know we were heading in a different direction. I wanted him to hear it from me."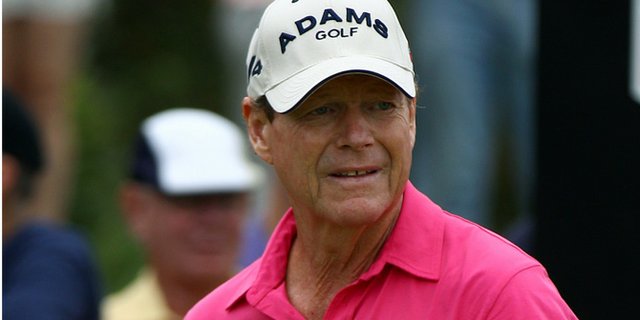 At 9 a.m. the day after you were announcing that you had a Thursday announcement and the day after Tim Rosaforte broke the news of Tom Watson's selection?
Like I said, runaway trainwreck.
Jeff Rude talks to Nelson and other past Ryder Cuppers at the PNC Father-Son-Stepson-Grandson-Step Grandson and as usual, Nelson is all class:
Nelson applauds the outside-the-box thinking this time, saying, "I never understood that. My captains included Billy Casper and Dave Marr. They were both off the Tour but made the best captains."