Full disclosure, oh screw it! You already know. Boy was this was an extra-fun clippings roundup to put together...
Here is PGATour.com's extensive, detail-rich, unbylined story on the news which also includes a video (embedded below).
And Gil's transcipt from Doral.
AP's story, authored by Tales Azzoni on the ground in Sao Paulo.
The Rio 2016 committee said Hanse Golf Design was "the candidate that most aptly met the selection criteria" issued by organizers, proposing a strong legacy component that included a golf academy to help the sport's development in Brazil.

"Hanse Golf Course Design tackled the challenge of designing a course for use by both elite and amateur athletes, one of the main legacy objectives," the committee said in a statement. "It addressed the environmental sustainability directives for the games and efficiently conformed to the building restrictions on the land."
I really hope this blog post lede doesn't also become Karen Crouse's lede for the print edition of the New York Times:
In what amounts to the first golfing upset of the 2016 Summer Olympics, Jack Nicklaus, Annika Sorenstam, Greg Norman, Lorena Ochoa and Gary Player lost out to Amy Alcott in the competition to design the course for the Rio de Janeiro Games.
I could elaborate on that, but this is a great day for Gil, nature-inspired golf architecture and all of the people who are working so hard to make golf in the Olympics a hit. Move along people, move along.
Ryan Ballengee features Jack Nicklaus's diplomatic reaction to the news and a startling remark from RTJ II.
"I would like to offer my sincere congratulations to Gil and his design team," said Jack Nicklaus in a statement.

"Obviously, Gil's commitment and desire to do the best possible job, along with his all-in commitment to the committee in Brazil, was an important determining factor to the group. I am sure he will do a fine golf course. The Olympics, and the legacy that golf course will have the opportunity to create, will be in good hands," he said.

Fellow architect Robert Trent Jones II felt mixed emotions, saying in a telephone interview, "Like any sportsman who gets to compete at the Olympic level, it was clearly worth the effort. My feelings are mixed between the personal disappointment of not being selected but also happiness that a true golf architect was selected."
A true golf architect. Ouch!
Gary Player tweeted his congratuations and also posted a statement on his website.


The statement:
"This is an important project that is not just about designing a great golf course. It is much bigger than that. Golf is returning to the Olympic Games for the first time in more than 100 years and all of us in golf have the responsibility to help make its return a huge success. I, and our entire company, will do whatever we can to help make golf in the 2016 and 2020 Games meaningful, successful and a permanent part of Olympic competition."

"We would like to express our sincere thanks to the IOC, IGF, GAC and the Rio 2016 Committee for considering our proposal. We really enjoyed being part of the selection process and wish the City of Rio de Janeiro and Brazil all the best in hosting both the 2016 Olympic Games and the 2014 World Cup. Brazilians have a way of making you feel welcome and it is fantastic that the world will have the chance to experience what a wonderful country Brazil is," said Black Knight International CEO, Marc Player.

"We would also like to congratulate the other finalists. Any one of them would have created a superb design that the golf world would have been proud of," he added.
Annika Sorenstam was also a good sport:
I would like to congratulate Gil Hanse and Amy Alcott on being awarded the bid to design the 2016 Rio Olympic golf course. It is an honor to have been a finalist for this opportunity. I have thoroughly enjoyed working with Jack and his team and learned a lot from one of the best in the industry. This is an exciting time for golf.
Tom Doak took to GolfClubAtlas.com's discussion board to issue a reaction.
Some disappointed faces in my office, obviously.

I had dinner with Gil in Rio in December, and told him then that if we couldn't get the job, I hoped he did. My congratulations to him, and best wishes for the work that lies ahead to prove that the committee made the right choice.

P.S. Thanks to all of those here who expressed their support for our bid. A lot of good that was worth!
Phil Mickelson was asked about the announcement at Doral:
Q. Today the Olympic Committee announced that Gil Hanse would be the designer for 2016 over Hall of Famers like Nicklaus, Player, Norman. You've been complimentary of his design styles in the past. Curious your thoughts that he'll be designing?

PHIL MICKELSON: I'm a big fan of Gil Hanse. I think he's one of the best architects in the business. He understands how to make a golf course playable for the average player but challenging for the good player. He does it better than probably anyone, Crenshaw and Coore maybe being the exception.

For him to get the Olympic job, I give the Olympic Committee a real credit, a lot of credit, because, it would have been easier to go with a big name. And instead, they went with the best. I thought that was pretty cool.
Critical reaction was positive, starting with this from Brad Klein at Golfweek:
Now Hanse will be flying down to Rio de Janeiro. The decision to hire Hanse, who has enlisted LPGA Hall of Famer Amy Alcott on the project, represents a powerful endorsement of a post-modern, links-inspired orientation to golf at the highest level of international competition. Beyond what this means for Hanse's own career, it is a powerful step in the emergence of a more naturalistic, more traditionalist and ecologically sensitive approach to golf and golf-course design.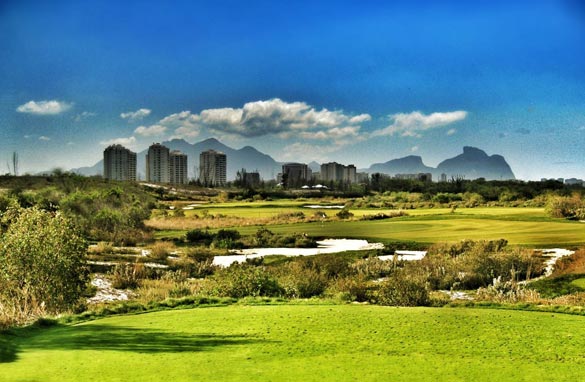 Colin Hancock at CNN says the announcement was a great first step but that there's more needing to happen to make golf in the Olympics work.
Clearly it's important that Rio is left with a first-class, environmentally-sustainable golf course, suitable for all levels of player. But it's even more vital that the course is able to help produce an exciting tournament fit for the occasion, one that inspires and showcases talent. Hanse's track record suggests the Rio Organising Committee and the IGF have made a good pick, although until the course takes shape, under huge time-pressure, no-one can be really sure.

And obviously it's not all down to the course. Golf's standing in the Olympics will also rest in part on having a fair spread of competing countries, on the stage being thrown open to those beyond the traditional powerhouses.

It'll also depend on the format, and there I fear the wrong decision may already have been taken. Week in, week out, Tour professionals play four rounds of strokeplay. It's the fairest test of great players. However the most reliably-exciting tournament in the world is the Ryder Cup, based on matchplay, head-to-head drama that can grip even the most casual of observer. As things stand the Olympic tournament will be strokeplay.
And the PGATour.com video, as promised...
**Larry Dorman talked to yours truly about why Gil is the best man for the job...
Geoff Shackelord, course architect and author, collaborated in 2002 with Hanse on the design and building of Rustic Canyon, an acclaimed municipal layout near the Simi Valley some 45 miles from Los Angeles. Because Hanse is not averse to working in conjunction with other architects, Shackelford compared him favorably with the giants of golf course architecture, Alister Mackenzie, A.W. Tillinghast and Donald Ross.

"He knows how to solicit opinions and ideas from other architects -- including the ones who were bidding against him for this job -- and then edit the ideas and take the best ones without hurting anyone's feeling," Shackelford said. "That's a skill and a unique talent."
**Golf Channel's coverage and report by Steve Sands: