The AJC's Steve Hummer with Brandt Snedeker's emotional Saturday winning $11 million in the Tour Championship/ResetCup but starting the day with a trip 11 miles away to the Shepherd Rehabilitation Center to visit the badly injured Tucker Anderson, son of his instructor Todd.
Only natural the subject of the Tour Championship would arise.

So, Tucker, you think I can beat Rory today?

Tucker Anderson had been involved in a near fatal car accident in Florida two weeks ago and was transferred to the Shepherd Center for treatment of a traumatic brain injury. The teen can't speak yet. But as Snedeker relayed later, Tucker answered him with a wink.

"That's all I needed," Snedeker said.

C'mon, how you gonna beat that?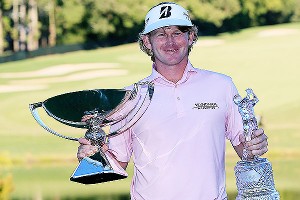 Bob Harig feels Snedeker's clean victory in the Tour Championship made his ResetCup win better too because the algorithms stayed out of the affair. Those poor calculability codes and rolled up Oxfords in PVB that couldn't bring the attention off the golfers and onto the suits!
The fact that Snedeker won the Tour Championship by 3 shots over Justin Rose and kept the typically contrived and confusing points scenarios to a minimum makes for a nice bow on that FedEx package.
Even Rory McIlroy, who finished second to Snedeker in the final FedEx standings despite two playoff victories, a major championship and a total of four wins this year (to Snedeker's two), was left to give a golf clap to Snedeker while having to "settle'' for his $3 million bonus.

"I'm a little disappointed, but at the same time, Brandt really deserves to win," McIlroy said. "If you look at his stats the whole way [throughout] the week, he played the best golf out of anyone. He knew what he needed to do. He needed to come in here and win. He controlled his own destiny, just like I did, and he was able to come and do that. Because of that, he really deserves it."
Rob Matre posts a lovely album of final day shots and also this awesome shot of Snedeker making a key putt.
Snedeker's entire post round interview transcript.
For those of you counting at home, the aggregate scoring concept for the Playoffs would have finished this way:
Rory McIlroy, 41 under (-1) -42
Dustin Johnson, 36 under (-1) -37 
 

Tiger Woods, 34 under (-2) -36
Brandt Snedeker, 25 under (-10) -35
Ryan Moore, 24 under (-6) -30
Phil Mickelson, 31 under (+1) -30
Louis Oosthuizen, 34 under (+7) -27
And for those of you favoring the "Plus One" concept endorsed by Brandel Chamblee and Johnny Miller last week, that means the final foursome after the Tour Championship play would have been McIlroy, Woods, Johnson and Snedeker, playing either one round or 36 for the $10 million prize.
Now that's one reset I'd love to see!
ESPN's Sportscenter highlight package: