Doug Ferguson reports on Matt Kuchar taking the lead on a tough day at Muirfield Village where high winds meant it was moving backwards day. Kyle Stanley and Kevin Chappell are one back and Adam Scott lurks four back.
Steve DiMeglio gives an idea just how rough the day was:
The 68s shot by Chappell and J.J. Henry were the low rounds of the day when winds gusted to 30 mph. Only 19 players among the 73 broke par. The field average was 73.60. There were three scores in the 80s. Woods shot 79, Rory McIlroy 75. Bill Haas, the overnight leader, shot 76.
How brutal was it? Even low round of the day shooter Kevin Chappell didn't really have much fun, but he did have a good line as reported by Helen Ross.
But was Chappell enjoying the challenge on Saturday? After all, the 68 he shot tied for the day's low round and left him in contention for his first TOUR win in just his 77th start.

"I guess it's like a prize fighter, he enjoys winning, but I don't know if he enjoys getting hit that much," Chappell said with a smile.
That all said, if you are looking for a ball striker heading into the U.S. Open, analyze what the PGA Tour's finest did on a windy Saturday on a tough inland course, writes Gary Van Sickle.
Windy days on the PGA Tour separate the players who are hitting the ball solid from the ones who aren't. Only the solid shots are able to consistently survive the wind. Kuchar is among the more consistent players on tour. He's had five top-ten finishes this year, including a win in cold conditions in the Accenture World Match Play near Tucson, and a second a week ago at Colonial. You can look at his tour stats and not find any obvious strength. He's 115th in driving distance, 149th in accuracy and 90th in greens hit in regulation. He ranks 25th in strokes gained putting, and, in the only category that matters, is eighth in scoring average.
Mark Lamport Stokes on Tiger's 79, which included the highest nine of his career.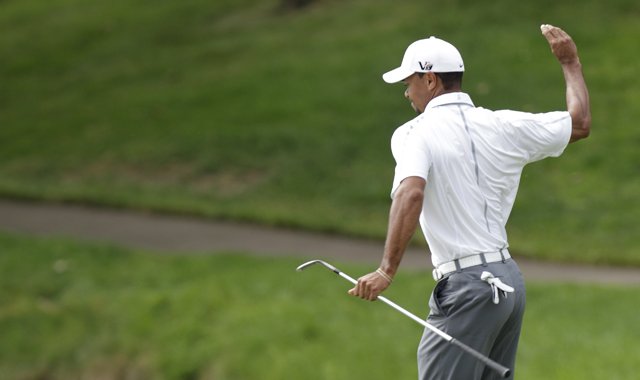 Jeff Rude on Tiger's front nine 44 and 79.
"It's just one of those things where I'm sure I'm not the only one who struggled out there," said Woods. "The conditions were tough and when I missed, it cost me. I caught the wrong gusts at the wrong time, made a couple of bad swings and all in all it just went the wrong way."

Woods was right about this: Misery had company on a day that yielded only six scores in the 60s, one of them a 69 by playing competitor Jim Furyk. In fact, Woods didn't even have the highest score in his threesome. Zach Johnson shot 81, one stroke higher than the 82 of budding star Jordan Spieth.
And Robert Lusetich shares this fun anecdote:
As Woods walked from the first tee on Saturday, coming off that atrocious triple on the 18th — his ninth hole — a fan yelled: "Hey, you're going to wake up tomorrow and you're still going to be Tiger Woods".

"I started laughing," said Jim Furyk, who played alongside Woods.
"There are very few things these guys yell that I think are funny, but I thought that was the quote of the day right there."
The PGA Tour highlight video:



Ashleigh Ignelzi and I talk about the day from the Nationwide Digital House, including my thoughts on Tiger's tough day (not a great thing so close to the U.S. Open but not anything more than just a really bad day in tough conditions).