The craft known as the lede, 2014 Open edition. They came in all shapes and sizes, but they were all about Rory.

Doug Ferguson, AP:
Rory McIlroy had to work a little harder, sweat a little more. No matter. Just like his other two majors, this British Open was never really in doubt.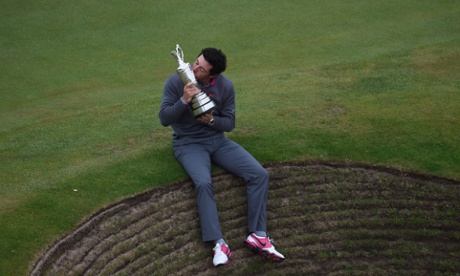 Ewan Murray, The Guardian:
It was appropriate that Tiger Woods was long gone from the premises by the time Rory McIlroy stepped on to Royal Liverpool's 1st tee.

A new age of golf, with McIlroy as the star, was endorsed by his claiming of the 143rd Open Championship. A sport that is so in need of heroes and poster boys to compensate for Woods's fall from grace has one in the form of a barman's son from Holywood.
James Corrigan, The Telegraph:
So, as predicted, the final round of the 143rd Open was a triumphant procession for Rory McIlroy – yet only for the very last yards of the 72nd hole.

But then, history should not come easily and the Northern Irishman was most definitely made to work for the honour of becoming the first European to win three of the four majors.
Kevin Garside, The Independent:
Rory McIlroy hailed his Open Championship victory as the high point of his career so far and said he wanted to be the next great player to dominate golf.

McIlroy fired a 71 for a 17-under-par total to claim his third major crown at Hoylake by two shots from Sergio Garcia and Rickie Fowler.
Derek Lawrenson, The Daily Mail:
Sweet Caroline was the chant emanating from a few boozed-up spectators when Rory McIlroy reached the first tee on Sunday.

By the time he got to the 18th green, his face a picture of rapture, it was abundantly clear he had composed his own response, for good times never felt so good. So good.
Karl MacGinty, Irish Independent:
THE 'new' Rory McIlroy lifted the Claret Jug at Hoylake and became Ireland's fourth winner of the British Open, golf's oldest and greatest Major, in eight glorious years.
Rory McIlroy's Sunday procession to anticipated triumph in the oldest major championship in golf became a tad wobbly around the crumpled links at Royal Liverpool Golf Club. But the substantial lead he built with a stunning finish in the third round proved sufficient.

Armed with a six-shot lead courtesy of two eagles in his last three holes on Saturday, McIlroy had enough in reserve and enough nerve to remain steady and hold off Sergio Garcia, Rickie Fowler & Co. to win the 143rd British Open.
Christopher Clarey, the New York Times:
By the standards of final British Open chapters, this was no major thriller, but it was not the relaxed Sunday stroll around Royal Liverpool that it might have been for Rory McIlroy.

His lead, as imposing as seven strokes in the early stages of the fourth round, was down to two with five holes to play. It was still only two when he knocked his final approach shot of the tournament into an awkward spot in a greenside bunker at the 18th hole.
Barry Svrluga, Washington Post:
It is difficult to ask a 25-year-old in any profession, be he athlete or accountant, to accurately project a career path over the next two decades. There is so much to learn, so many decisions to make, so many directions to travel.

And yet that is what Rory McIlroy left us Sunday after his blitzkrieg here.
Three down, one to go. In the eight decades that have passed since the evolution of the Masters Tournament, only five men have so far annexed all of golf's four most important events -- Gene Sarazen, Ben Hogan, Gary Player, Jack Nicklaus and Tiger Woods. But a sixth is on the horizon. With victory in the 143rd Open Championship at Hoylake, Rory McIlroy needs only a win at Augusta National to join one of the game's most exclusive clubs.
Any others you spot, please pass along and I'll post. Nice work putting a historic win into perspective by the deadline set.