Ewan Murray of the Guardian on Rory dedicating his win to his mother, in attendance for the first time at one of his major victories.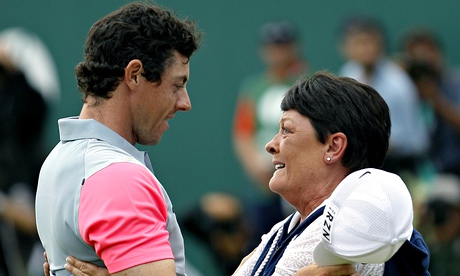 Murray writes:
Rory McIlroy dedicated his Open Championship victory to his mother, Rosie, after claiming the Claret Jug by two shots at Hoylake. The Northern Irishman, who has now won three major titles, was embraced by his mother after holing the winning putt. At 17 under par McIlroy saw off the challenge of Sergio García and Rickie Fowler, who tied second, with a final round of 71.

"This is the first major I have won when my mum has been here," McIlroy said. "So mum; this one is for you. It was just great to see her on the back of the 18th there and how much it meant to her. I was trying not to cry at the time because she was bawling her eyes out.

"The Open is the one we all want and the one we strive for. To be holding the Claret Jug is an incredible feeling."
Brian Keogh on mum's presence and the Masters as the next conquest.
Now the little boy who used to wake his mother up by banging her on the head with a plastic club wants to go on and complete the set by winning the Masters next April.
Gerry Mairs on dad Gerry collecting his share of the Rory-wins-Open-bet from years ago.
James Riach on Rory giving the crowds what they wanted at Hoylake.
The ebullient cacophony that met him was befitting of an imperious performance that began on Thursday and never dipped, even if McIlroy still had a bunker to negotiate. Once he had escaped the trap the finish was a formality, three putts for the title in an amphitheatre of a final green surrounded by raucous grandstands.

It is unusual that the R&A sets up the denouement in such a fashion, but the end result was a tremendous crescendo as McIlroy tapped in for an historic victory. His is a win that was welcomed by the masses, even if his two adversaries on the day, Sergio García and Rickie Fowler, would both have been popular and worthy victors.
James Corrigan on Rory already setting his sights on Augusta.
Yet while the Australian will be in his sights in the next month, McIlroy has history as the longer-term goal.

"To sit here at 25 years of age and be three-quarters of the way to a career grand slam is something I never dreamt of at this point of my career," McIlroy said. "I definitely hope I can complete it. I've really got my passion again for golf – it's what I think about when I get up in the morning and when I go to bed at night.
The Telegraph's Alasdair Reid on Rory achieving a high level of skill.
McIlroy's irons have always been crisp, but he lost some of his touch last year when he went through an equipment change. It is back with a vengeance now, and he is also a far less streaky putter than he used to be. The two eagles he produced over the closing three holes on Saturday were perfect demonstrations of the range of his powers, as mighty drives were followed by superb second shots and firm and assured putts.
Mark Tallentire of the Guardian on Rory inducing a fear factor over the rest of the field when he's hitting on all cylinders.
The Northern Irishman will be perceived to be harder to beat, and the way he drives the ball, he has the talent to blow fields away. With time on his side, he should get to six majors, and could end up well into double digits. The growing pains have largely been overcome, the dark days of almost missing his tee time at the 2012 Ryder Cup and the misjudged remark after struggling around Royal St George's in the 2011 Open, when he declared that his game was plenty good enough for most tournaments and that he would not be changing it for one week a year playing links golf, marked down as just unfortunate blips.

His talent has been evident since his early days and the tremendous mindset, think Nicklaus and Woods, has been a factor since he won the Irish Close Championship at the age of 15 and then became the first player to defend it since the legendary Irish amateur Joe Carr in 1965. He went on to win the Silver Medal as the low amateur on his Open debut at Carnoustie in 2007 and Rickie Fowler has pointed out that he was already Great Britain & Ireland's "go-to guy" in the 2007 Walker Cup team.
The Daily Mail's Mike Dawes on Rory's weird day with the fans on Sunday, including a snubbed fan who wanted an autograph in a massive security breach:
But Poulter took to Twitter to explain the difficult situation that the Northern Irishman found himself in.

He tweeted 'Just to clear up the signature thing. We are asked not to sign autographs until we have officially handed in our scorecards. #RulesAreRules.'

It was not McIlroy's only incident with a fan all day, after earlier growing frustrated with a spectator whose noise interrupted his backswing at the 16th hole on Sunday.

The three-shot leader hit an almost perfect drive down the centre of the fairway - but took exception to one member of the crowd, pointing them out to be ejected with his club.

Speaking out about the incident later, McIlroy said he had been consistently heckled by the offender throughout the day.
The Daily Mail's Arthur Martin claims Rory gave up a day of Open practice to be with his friend, who was in a car accident and who McIlroy has been friends with since last year.
It all coincides with his blossoming friendship with Irish lingerie model Nadia Forde.

After being introduced by mutual friends last year, the pair have remained tight-lipped about the nature of their relationship. Meanwhile McIlroy's ex-fiancee, Danish tennis star Caroline Wozniacki, 24, seems to be thriving on being a single woman after winning the Istanbul Cup on Sunday – her first title of the year.

McIlroy and Forde, 25, certainly seem to be getting closer. He missed a practice session before the Open when he learnt that she had been involved in a car crash last weekend.
Less breathless is Robert Lusetich, who works off of Tiger's extensive Rory comments Sunday at Hoylake and wonders what is next.
McIlroy's three majors have been as breathtaking as Boy Wonder's down times in between have been befuddling.

After he won the U.S. Open in 2011 in record fashion, he did not contend at all in the next five majors -- missing the cut at the 2012 U.S. Open -- but then out of the blue won the 2012 PGA Championship at Kiawah Island, also by eight shot
Ryan Lavner on GMac's post round comments. Hmmm...