The final day setup felt like the best yet by the R&A, with a nice balance of hole locations that seemed to be missing other days. Despite the tough conditions, the course appeared vulnerable to good play while creating plenty of mischief as well. Even better, it produced a clear-cut, definitive win and plenty to write about. Here goes...


Ledes

Doug Ferguson for the AP:

No matter how long it grows or even how quickly, the list of major champions from the tiny country of Northern Ireland just wouldn't feel complete without Darren Clarke.

He doesn't have the majestic swing of Rory McIlroy or the putting prowess of Graeme McDowell, the last two U.S. Open champions. He hasn't contended in a major for the last 10 years, wasn't even eligible for the last three majors and was no longer among the top 100 in the world.
No matter.
Derek Lawrenson in the Daily Mail:
Don't they erect statues for performances as epic as this?

Whatever was thrown at Darren Clarke on Sunday, whether it was the pitiless weather, an outward half of astonishing brilliance from Phil Mickelson or some robust athleticism from Dustin Johnson, the man from Northern Ireland could not be moved.
Martin Dempster in The Scotsman:
DARREN Clarke sparked another Portrush party after becoming the oldest Open champion since 1967 then revealed that text messages from both Tiger Woods and Rory McIlroy had helped him land a £2.9 million pay-day at Sandwich.
Larry Dorman in the New York Times:
On Sunday at Royal St. George's, just before Darren Clarke tapped in the putt that would seal it all, the one that would mean the wait was over, that the British Open was his and the 20-year quest had come to an end, he stepped back, grinned, and spoke to himself.

"I think I said something like, 'You've done it at last,' " said Clarke, the big man from Northern Ireland, his face brimming with mirth.
Barry Svrluga in the Washington Post
In Northern Ireland, from Portrush on the northern coast through the city of Belfast in the east and into the wee town of Holywood, they will celebrate Sunday's events here. Yet another one of their own, 42-year-old Darren Clarke, won the British Open with a never-show-you're-nervous performance at Royal St. George's. With his closing even-par 70, in intermittent downpours and unrelenting wind, Clarke finished at 5-under 275, three shots clear of the field, becoming the third different Ulsterman in the past six majors to win a championship.
Lawrence Donegan, filing for the paper that may make Rupert Murdoch start dying his hair again:
Darren Clarke, Open champion. Easy to say, hard to believe. But that was the story told on Sunday as the big man from Dungannon walked strong and proud through the squalls, all the way up the final hole theatre at Royal St George's to claim the greatest prize in golf.
Steve DiMeglio for the USA Today:
Graeme McDowell likes to tell people that his homeland of Northern Ireland is so small one could drive north to south in 90 minutes and east to west in two hours and touch all four borders.

"It is an incredibly small country," McDowell says. "We're blessed with some great golf courses, though, and some golf clubs that really embrace junior golf. It makes our small country very proud."

Well, Northern Ireland is puffing its chest out as another favorite son, Darren Clarke, won the 140th edition of the Open Championship on Sunday at weather-ravaged Royal St. George's.
Kevin Garside for The Telegraph:
Darren Clarke, Open champion at 42. How does that sound? How does that feel? Clarke will be putting that question to himself an awful lot over the coming days as he adjusts to life as the owner of the Claret Jug.
James Corrigan in the Independent:
Never had the champion prevailed after so many attempts and never had the champion cheered so many hearts. When Darren Clarke tapped in on the 18th last night to win the 140th Open Championship the tears flowed almost as quickly as the Guinness. The big man had done it. At last.
And a game story within itself…his ownself, the Ancient Twitterer, master condenser and mysteriously perennial World Golf Hall of Fame darkhorse Dan Jenkins, who summed up the ending of the contest as it happened: "Dustin does what Dustin does: O.B. at the par-5 14th. Start engraving the trophy."



Stuff
The final leaderboard

The final day interview transcripts, including Darren Clarke's post round presser.

The official website has a video page, including Clarke's post round press conference.

Golf Channel's Tom Abbott sat down with Clarke after the round for an interview and following that is some of GC's post round coverage.
ESPN highlight video (almost 8 minutes long):





Darren

James Lawton for the Independent:
As an example of sporting rectitude, it was completely at odds with the new orthodoxies of the modern game – scrupulous diets, daily workouts and the near-religious belief that he who is fittest tends to win – but Darren Clarke has never been a poster boy for healthy living.

For four days, though, in conditions which have drained the resources of the best golfers in the world – minus the dislocated Tiger Woods – Clarke made a statement about his version of the realities of sport and life.
Less than five years after he broke down on the 16th green at The K Club after he won three points out of three in a heroic Ryder Cup performance just a few weeks after the death of his wife Heather, Clarke serenely kept his emotions in check to achieve the dream of a lifetime.

He dedicated his victory to his late wife and his sons Tyrone and Conor and while it would be easy to believe his first major win was a gut reaction to those back-to-back US Open triumphs by fellow Ulstermen Graeme McDowell and Rory McIlroy, he pointed to Harrington's three major wins in 13 months as the true catalyst.

"It's been brilliant but it wasn't just G-Mac and Rors," Clarke said. "It was Padraig and for Irish golf in general, his major wins and the way he achieved them, he got the ball rolling.
Tom English in a powerful piece for The Scotsman:
Clarke won the Open. It's still surreal. He answered every question, every little challenge that came his way, his par-save from 13ft on the 1st hole, another saver from 8ft on the 3rd, his 16-footer for eagle on the 7th at the peak of Phil Mickelson's thrilling early dash. Each time he might have wobbled, he stood firm. The irony of ironies is that it was the putter that gave him his momentum yesterday, the same implement that has caused him so much anguish in years gone by.
Clarke is John Daly without the baggage. The operative term is "normal guy," though most normal guys don't spend 25 grand a year on cigars. Clarke supposedly does, but he probably shares $20,000 of that with whoever bellies up next to him at the bar for a pint of Guinness.

We criticize most athletes for public drinking. But when a chunky Irishman jokes that he's "fond of a little beverage now and then," we find it endearing. We did it after Northern Irishmen won the past two U.S. Opens, and Rory McIlroy is barely old enough to legally drink.

I'll let the sociologists grapple with that. All I know is I'd rather sit around sipping from the Claret Jug with Clarke than any other sportsman I can think of.
Kevin Mitchell on Clarke's hard work paying off, including right up to his tee time.
Before play Clarke spent a good half‑hour practising in the sand; on the 11th those tutored muscles hauled the ball out of the bunker to within eight feet, and he drilled in a tricky par putt. There is no such thing as luck, in life or golf. It is all hard work.
Oliver Brown on the scene at the 18th.
This time, as he raised his putter in salute to Sandwich's grandstands, he could enjoy the purest expression of collective admiration.

Even his manager 'Chubby' Chandler, the honey-monster who has steered him so adeptly through a personal and professional nadir, looked fit to cry. Already, mother Hettie was dabbing away the tears. The pride felt by Godfrey, his father, and a man who used to make his living as a greenkeeper, was boundless.

In the eyes of the masses, too, Clarke's was a profoundly emotive triumph.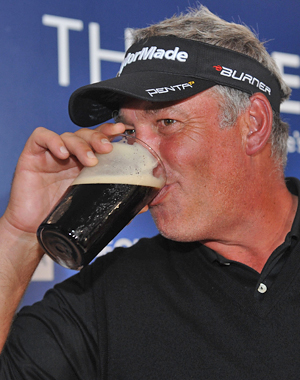 Scott Michaux on a touching moment between Clarke and Lawrence Donegan, from the paper that Rupert Murdoch wishes he could buy, close and implode:
When a reporter at the U.K. daily The Guardian who had written off the aging Northern Irishman asked a question Sunday night, Clarke recited a particularly cruel line from the two-year-old newspaper clipping.

"Hang on," Clarke said playfully as he scratched his head. "I'm trying to recollect your little line. 'He's in his inexorable slide toward irrelevance.' Is that what you said? I've got the paper at home. I can show it to you if you don't believe me."

Then Clarke reached out and clutched the Claret Jug with his name already engraved upon it.

"This is a mirage," he said.
Martin Samuel on why everyone loves Darren and how there are differences in how we use certain words...not that there's anything wrong with that.
One of us, isn't he? Likes a fag, likes a drink, looks as if he knows his way around a main course as well as a golf course, too. It is one of the beauties of his sport. We admire great athletes but we can never be them; not really. We can never be as lean or as fit or as fast or as strong. We do not have the maniacal discipline, the devotion to duty or sheer unbending will. We can never be as po-faced about sport as its finest exponents and golf, in reality, is little different.
Jason Sobel for GolfChannel.com:
That's not to say every pro should replace his vitamin-filled energy drinks with pints of Guinness, nor is it suggesting that a player's success is directly correlated to his alcohol consumption. It's more about attitude. Throughout the final round, Clarke could be seen smiling and cavorting as if competing in a practice round rather than the most important 18 holes of his life.

It's a lesson some American golfers could stand to learn.
Alan Bastable on the bond between the Mickelson's and Clarke.
If Mickelson was rooting for anyone, other than himself, it's likely the eventual winner was near the top of that list. After the round, Clarke revealed that he and the Mickelsons forged a tight bond at the 2006 Ryder Cup in Ireland, which was played just two months after Clarke lost his wife, Heather, to cancer. Wives and significant others play a big role in the Ryder Cup proceedings, so those matches were especially difficult for Clarke. That much was evident to the Mickelsons. During the processionals of players and wives at the opening and closing ceremonies, Amy escorted both Phil and Clarke.

"Amy stood in the middle and held both our hands," Clarke recalled.

In 2009, when Amy herself was diagnosed with cancer, Clarke was quick to offer his support. "He was one of the first people who called us," Mickelson said Sunday. "He's been through this and could not have been a better person to talk to. We talked for a few hours a couple of times. He's a tremendous person and a very good friend, and I couldn't be happier for him. It was fun to try to make a run at him."
John Huggan recounts a conversation with Clarke at Castle Stuart that indicated the ultimately triumphant path down Open Champion lane. With help from Dr. Bob Rotella.
"Go 'unconscious' was the message I gave to Darren," said Rotella in the immediate aftermath of Clarke's maiden major championship victory. "He needed to get all the technical thoughts out of his head. So no more, 'hold the angle,' for example. It's funny, but as soon as he stopped consciously trying to do just that, he began doing it perfectly. It may have felt funny to him but, as he admitted himself, the ball was flying out of the middle of the clubface."
From the SI roundtable following the round:
Gary Van Sickle, senior writer, Sports Illustrated: He's a classic case of his kids getting old enough to get interested in golf and rekindling his own interest in playing because they drag Dad to the course. Maybe now he will, or has, realized his potential. He seemed pretty satisfied to live a good life of cigars and wine and expensive cars, and now he's got the biggest win of all.

Alan Shipnuck, senior writer, Sports Illustrated: A magical one-off. No one will ever enjoy an Open triumph more, which is good, because the form won't last.
Robert Lusetich on the lucky Greg Norman locker (from 1993) that Clarke drew.
Truth be told, not too many things have gone right for Clarke over the years, either, so he saw it as an omen.

"Tom Watson said it could be a lucky locker for us," said Clarke's caddie, John Mulrooney, "It made a massive difference getting that locker."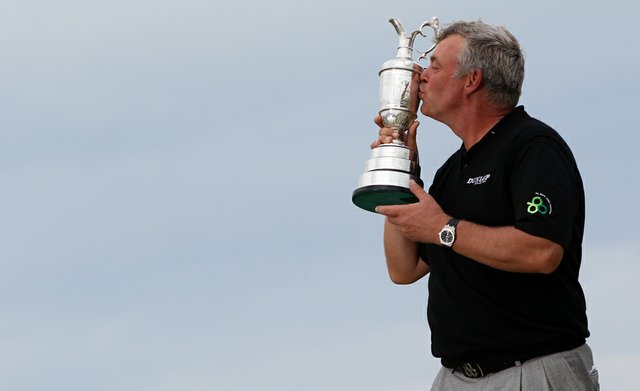 Sean Martin writes about Clarke's move back to Portrush and the determination his agent saw in the weeks leading up to the Open.
The year's first three majors have all been won by members of Chandler's International Sports Management stable. Clarke was Chandler's first client. Chandler saw a spark in Clarke that Chandler thought may lead to victory.

"Four weeks ago, he said, 'I'm going to prepare properly for the Open because I'm not going to have too many more chances to win it,'" Chandler said. "I walked away from that and I thought, 'He's thinking about winning the Open. That's great.'"
Paul Kelso picks up on the same theme of Clarke's settled home life, and also includes several quotes from fellow players along with this from Tiger:
Tiger Woods was among the first to congratulate him, via Twitter, and Clarke revealed that the former world No. 1 had sent him a text message on Saturday night. "He was giving me a couple of bits of advice, which was brilliant."
Kevin Keane talks to Clarke's fellow members at Dungannon, who gathered to watch the Open in the clubhouse and to cheer on their man (and cash some winning tickets).
Throughout the afternoon Dungannon's small and normally sedate members' bar became steadily more packed -- and more raucous. The cheers grew louder as each completed hole brought Clarke closer to the biggest win of his 21-year career.

By the time Clarke walked on to the 18th green at Royal St George's in Sandwich, England, champagne corks were being popped back in Dungannon.
The Northern Ireland halo effect may be working, as Peter Hutcheon reports on Royal Portrush's chances of staging an Open increasing, with the same quotes from Peter Dawson as earlier in the week, except this, which I don't recall:
"But we are not stupid at the R&A. We do hear the emotion, we hear the pressure and we are going to take a look at it."
Phil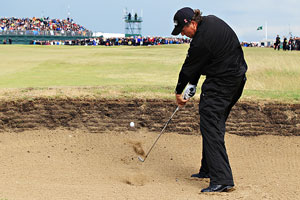 Bob Harig for ESPN.com on Phil Mickelson's mostly positive performance since no one saw this coming.
Mickelson was dealing with the brutal elements like he grew up on a links course, like he loved playing in the wind, like he welcomed the rain.

Birdies at the second, fourth and sixth holes Sunday put him right in the thick of contention, despite a howling wind and sometimes sideways rain.

"It was incredible," said his longtime caddie, Jim "Bones" Mackay. "He didn't miss a shot. We were standing in the fairway on 4 and saying 'Let's just make a 4 here.' And he makes a birdie. After the putt on 6 he said to me, 'This is about as much fun as I've ever had playing golf.' It was so cool."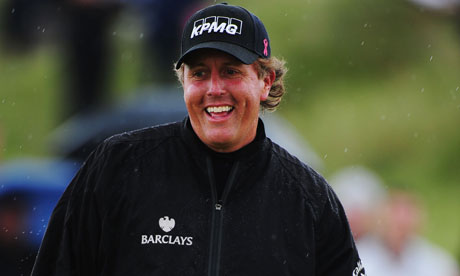 Paul Hayward thinks "Mickelson's 2011 Open Championship may go down as the greatest attempt at self-brainwashing in the history of sport."
After Phil Mickelson left a press interview tent on Friday someone calculated he had used the word "fun" 19 times. An earlier media transcript had him saying "it was really fun today" and "I'm having a lot of fun here" and "I'm going to try to learn and enjoy the challenge of playing links golf – I'm having fun doing that."
Steve Elling, declaring the front nine possibly the finest nine Phil has ever played, paints a picture of the scene on 11 when he missed a short putt that derailed his round.
Miffed at himself over throwing away a stroke at a crucial stage of an important event, Phil Mickelson extended an index finger and pointed it toward his head.

One shot off the lead at a Grand Slam event where he's mostly struggled to be relevant over the years, Mickelson had just absent-mindedly missed a 30-inch par putt that he'd rushed for no real reason, derailing some serious mojo.

Mickelson jabbed himself in the temple -- not once, but twice.
Phil still has fans at SI/golf.com:
Van Sickle: I also don't see Phil winning another major until he fixes his short putting, if he's able to. He says he hasn't been himself for a few years, is just starting to feel like the old Phil again, and the putting is the last thing to come back. However, he's also in the over-40 age group, where putting skills tend to diminish. Phil lost this Open because of five missed short putts. He proved his tee-to-green game is good enough to win anywhere. I think he'll win again.

Shipnuck: A career Grand Slam is still in play. He found something this fortnight in how to prepare and how to navigate the linksland. I can't wait to watch him in the next few Opens.

Evans: Phil can win into his early 50s. He's that good.


Dustin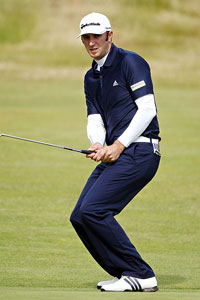 Gene Wojciechowski on Dustin's mistake at 14 and surprising view on how he'd do it over again.
The terrible second shot -- Johnson said he hit a 2-iron from 250 yards, his caddie, Joe LaCava, said it was a 3-iron -- drifted right and into the gunk beyond the white out-of-bounds markers. A penalty stroke, drop and 4 more shots later, Johnson had "a nice, easy double-[bogey]."

In six minutes' time, Johnson went from major contender, again, to tragic figure, again. Just like that, Clarke's 4-shot cushion returned and the 42-year-old Northern Irishman put his game on eco-power and cruised home for the first major championship of his long career.

Thing is, Johnson could have/should have had triple that many major wins by now. He could be three-fourths through a career grand slam. Instead, he's found new and exciting ways to fumble away chances most pros dream about.

"I probably should have hit 3-wood," said Johnson, who has now finished in the top 10 in four of his past eight majors. "I'm two back and the rest of the holes coming in are pretty tough. Out here you don't really get too many opportunities to make birdies. It's definitely a go situation. If I had to do it over again, I'd do 3-wood."
Cameron Morfit on DJ's disastrous decision.
"I'm two back and the rest of the holes coming in are pretty tough," said Johnson, defending his decision to go for the green in two. "Out here you don't really get too many opportunities to make birdie, so it was definitely a go situation."

A BBC commentator gravely intoned, "It's beyond belief that Dustin Johnson would do that," but it wasn't unbelievable at all. It had always seemed a distinct possibility that Johnson would crack mentally as he did at the 2010 U.S. Open and PGA Championship.
Elling on Johnson's hoped-for resiliency and Butch Harmon's faith in this student's ability to bounce back from another major calamity.
Johnson was left to repeat a phrase that he admittedly has uttered far too many times of late.
"Obviously, like I say all the time," he said, "the more I put myself in this situation, the better, the more I learn, the more I understand my game and what happens in this situation."

So far, what's happened has mostly been hurtful.

"He is one of the most resilient players I have ever seen," Harmon said. "He'll be back."

The Americans
Gary Van Sickle's column suggests the week "was definitely an overall improvement for American golf, if not a reason to celebrate."

But in the SI, golf.com gang roundtable, this is the Gary I love and know, followed by Norman Vincent Shipnuck:
Van Sickle: Let's see. Who, besides Phil, mounted anything resembling a charge on Sunday? Or even a little gallop? No, our guys were just as good as Thomas Bjorn and Raphael Jacquelin and Simon Dyson. They're still major Ryder Cup underdogs at this point in time.

Shipnuck: I disagree, Gary. The three most talented young Yanks are Dustin, A.K. and Rickie, in that order. To have them all on the same leaderboard, with Phil leading the way, bodes very well for American golf.

Van Sickle: Great. How'd they play on the final nine? Oops.
From Alasdair Reid's open diary for the Telegraph that includes notes about book sales in the merchandise tent, this about two of America's great hopes:
A delicious rumour from the final round's good ol' boy pairing of Bubba Watson and Bo Van Pelt. Apparently, they approached a marshal to ask for some local dining advice and were told to try a Hindu restaurant.

"What's a Hindu," Bo asked Bubba, the Florida native whose redneck remarks made waves in France recently, as they walked away.

"It lays eggs," Bubba replied.


Rory

The Daily Mail headline: McIlroy: I hate the weather and I can't wait to get back to America's sunshine

Mail writer Mike Dickson called the comments a "somewhat petulant departure from The Open by blaming the weather for a modest showing which saw him finish in a tie for 25th on seven over par."

Here is the presser in its entirety and I must say, you sense the writers trying to give him a few chances to dig himself out of it and the comments grow more shocking as he goes.

Karl MacGinty didn't criticize, but instead anticipates a critique of Rory's comments and points out that Rory was not reared on a links.
It was remarkable on Saturday to see McIlroy, a young man born and bred one hour by road from one of the world's finest links at Royal Co Down, look so ill-at-ease in the wind.

However, he did grow up on a parkland course in Holywood, with a game perfectly suited for the venues at which golf's other three majors are played, including Atlanta Athletic Club, where the US PGA Championship will be played next month.

No question, McIlroy's candid remarks will draw criticism from commentators steeped in the traditions of British golf but his logic is indisputable.
Because of the remarks, it sounds like AP's John Leicester has de-lofted Rory's place in the current pantheon of great players.
Jack Nicklaus is absolutely correct: it is way too early to anoint McIlroy as golf's new crown prince. Only when he wins two, three, four or more majors can golf have a serious debate about his place in the sport's pantheon of greats. Until then, McIlroy is still a member of an elite group of several dozen players who all have the talent to win majors, but is not yet floating above them on a level all of his own.
Unlike Sam Weinman at GolfDigest.com, so far the other Euro columnists have waived a white flag on McIlroy's stunning comments about being a fair weather golfer, perhaps because they've known of his fervent dislike for links golf conditions.


Paul Mahoney's only mention said: "It's an unusual Achilles' heel for a son of Ulster."
Now, if an American had said what Rory said, he'd be on the Bubba Watson fast train to Ugly Americaville! Garry Smits hits on this point while also noting that, based on his remarks, Rory should love The Players and put it on his schedule.

But forget the tabloid fun they should be having with the extreme nature of his remarks ("I'd rather play when it's 80 degrees and sunny and not much wind."), it's a major statement about the young lads chances of ever winning The Open and from a purely analytical point of view, should at least be probed even more by the UK press.
Will they probe?


Others
The Daily Mail runs a priceless full page mock-up of Miguel Angel Jimenez's warm-up routine along with many other notes, including a statement about Tom Lewis looper Lorne Duncan's choice of sandals.
Canadian Duncan, who only got given the British amateur star's bag on the Monday before play commenced, is described by those who know him as being of hippyish persuasion. You don't say...
They also threw in one last shot about the passageway to Sandwich's train station:There were traffic jams of a human kind between Sandwich's train station and the course, with long queues forming just to get on the narrow paths and the walk - 25 minutes at best - often took more than an hour.


Media

John Strege covers a nice array of media and documents what has to rank in my top 5 of all time worst announcers-yammering-over-quality-eavesdropping, as Mickelson arrived at the par-4 fifth, faced options at a key point in his round and debated over club selection with Jim Mackay.
Once the broadcasters stopped talking over them, Mickelson and caddie Jim Mackay gave viewers an opportunity to eavesdrop on a discussion they were having over whether Mickelson should use a driver or 3-wood off the tee at No. 5. Mackay argued in favor of the driver, Mickelson the 3-wood.

"I just remember the time we spent with [Dave] Pelz," Mickelson said. "He said when it's 15 knots or more downwind your 3-wood will go farther than your driver. Because you'll get it up in the air a little bit higher and you'll get a little more spin."

The problem, Mackay was arguing, that the longer 3-wood shot diminished the margin for error.
"I think Bones [Mackay] is right," Azinger said. "The hardest thing for Mickelson is to give in and he gave in here. Bones is exactly right. Less margin for error with the 3-wood."
The SI/golf.com guys kicked around the ESPN and BBC telecast comparison:
Evans: Less is more, especially for the history-obsessed Open Championship, and I think ESPN did a good job of showing a lot of golf and giving just enough commentary and history. Mike Tirico knows a lot more golf than he is given credit for.

Walker: ESPN created a nice mix of shot tracker and hole/wind graphics with the classic links feel of the views from St. George's. But there sure were a lot of commercials. Since the players themselves are walking billboards and product placements, are all the ads even necessary? Couldn't NYSE just pay for an extra 30 seconds of Stricker on the screen? Nike pays for some extra Anthony Kim time.
USA Today's Michael Hiestand either watched a different Open or just doesn't really like Rick Reilly much. Or doesn't know much about golf. Or all of the above.
Suspenseless British finish: ESPN's British Open had lots of entertaining golf — but not during its final holes. As winner Darren Clarke "out-executed everybody by far," as ESPN's Curtis Strange suggested, ESPN was left flogging the story line that the golfer is also a good guy. Or, as ESPN's Rick Reilly put it in noting that Clarke "loves wine" and keeps trying to quit smoking, "We all love him because he's so much like us." Really?

Images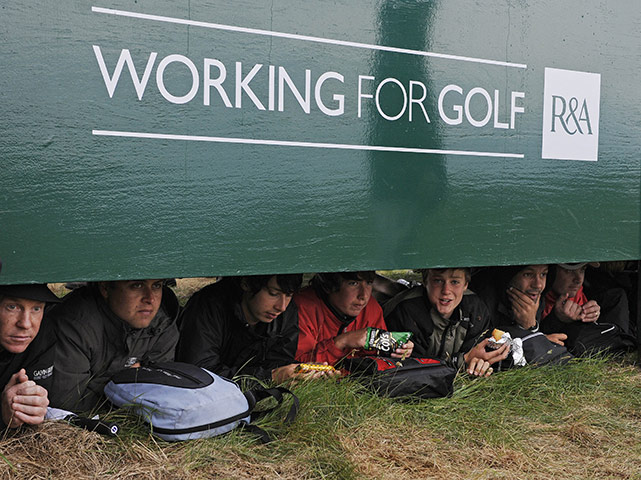 The Guardian's Tom Jenkins picks his favorites again.

The Telegraph's final round image gallery.

Sunday images posted by GolfDigest.com

Golfweek posts a gallery as well.

David Cannon's last blog entry was Friday but he writes about and posts some cool shots of the maintenance crew working in the dark as well as some stuff you won't see elsewhere.
And finally, it looks like a cell phone photo, but it's uncredited on Brian Keogh's Irish Golf Desk but captures a moment for the ages.