As the big day looms and you figure to receive nothing you actually wanted, we carry on post-Seamus, post-Johnnie-O, post-St Andrews books, and post-Wybranski major art with a Vancouver-designed product that almost never is discounted. While I love sharing a good deal, I'm buying one more day to see what offers turn up related to three of the final choices before recommending. So in the meantime I give you...$128 pants!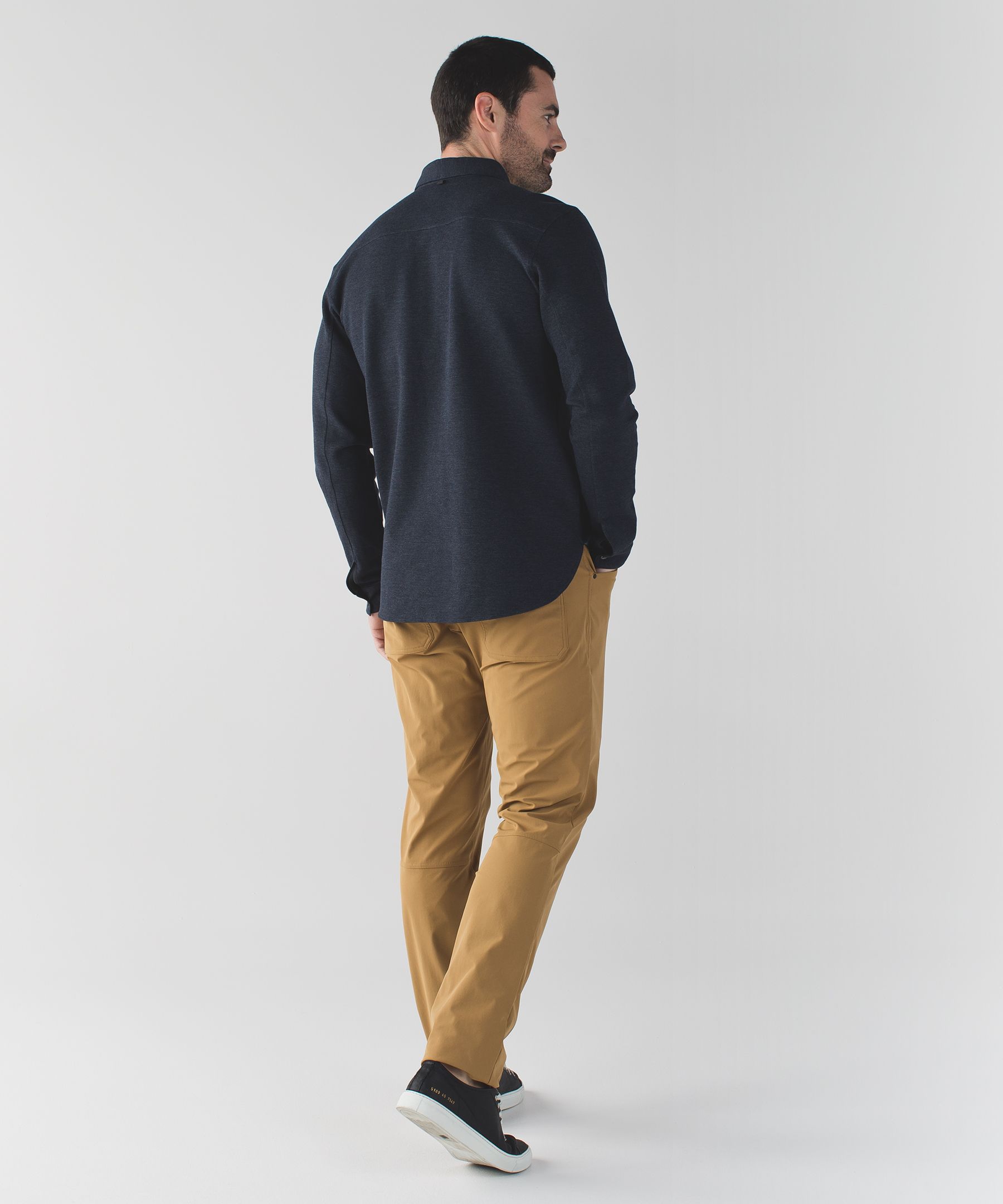 What a guy!
Back in February a golfer friend told me of his love for teeing up in Lululemon's ABC Pant. Like most, I only barely knew of the company as female and yoga-centric. Then I found out the price of the ABC Pant and laughed. His reply? No dry cleaning, no ironing, lots of durability and you can wear one pair three times on a trip and they'll never smell or feel dirty.

Pre-millennials are saying right now: this is what they used to say about Sansabelts.
(For millennials: Sansabelts were the hideous beltless polyester pants worn in the 1970s and 80s by professional golfers who would start with a flat hand well above their stomach and hug the skin as they lowered their hand toward their pocket in search of a coin to mark a ball, all the while short of breath because the poly wasn't that comfortable. They are still made today.)
Lulu's ABC pant does not make you work to get something out of your pocket. Ever better, they breathe. Quite simply, they are the greatest pant ever made and seem like they were created just for golfers. They weren't. In fact, the old CEO (now gone) didn't like golf at all.

To rationalize the cost, ask yourself...
Do you travel a lot?
Play a lot of golf?

Hate ironing?

Hate paying for dry cleaning?

Like to feel like you're wearing your favorite pair of sweat pants all day?
Like a modern cut of pant that gets just the right amount of non-dad jean snugness?
Lululemon's ABC Pant is for you then. Check them out here. And sorry, no discount. Also, be prepared for their scarcity model, which means colors and sizes come and go and vary widely from store to store.
I still say Johnnie-O's are more ideal for most golfers in cut and style, but if you're all about pure function and willing to pay for it, you'll never once entertain thoughts resisting a visit to what was once thought of as only the domain of Yoga instructors: a Lululemon store.

Merry Christmas!*

*PS - go a waist size up. If you're a 30, buy 32s, etc... some sort of Canadian sizing thing.